6 of Cups Tarot Card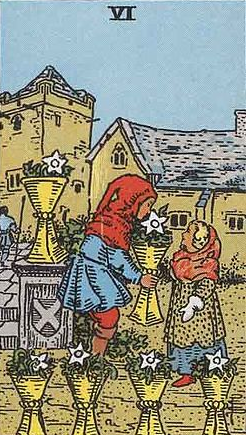 6 of cups is one of the best tarot cards among the Cups card. In this article i am sharing my Case Studies when 6 of cups came up for situations like in Love/Relationship, Career, Studies and future reading. 
Characteristic of Cups Card
Element is watery sign

Cups are about emotions, sensitive, caring, nurturing, relationship oriented, kind, friendly and artistic.

CARD Number is 6 and 6 number in numerology  is ruled by VENUS. Venus is the significator(karka) of marriage, love, relationships, art, music etc.

Whenever we see any card, it's very important to see the full image, symbols, colors etc.
6 of cups is the only cup card  which are filled beautiful flowers
Interpretation of Card – 6 of cups 
We can see in the image in 6 of cups Tarot Card – Two people are happily involved in giving and receiving of a cup full of flowers . it clearly represents harmony between them .
In this situation it means  you may get chance to meet your old friends, or people from past with whom you may have worked or stayed in relationship with them. This card also asks to express your emotions.
Keywords for Tarot Card – 6 of Cups:
Below I am sharing keywords for 6 of cups card, that tarot card reader must have in his/her mind while interpreting this Tarot Card.
Sharing and reconciliation

Honest

Thinking about old times

Happy memories

Meeting old friends or relatives

6 of cups is an emotional card.

This card shows possibility of get together.

Card of celebration, gifts

Shows possibility of even inheritance
6 of Cups Card in Situation and Guidance
When 6 of cups card comes up in situation and guidance position, Tarot Card Reader can advise these things.
Someone whom you know from past, may come up in your life again and prove helpful to you.
By sharing things/ideas, you may do much better.
Need to work together in team.
Meet your friends or relatives.
Possibility of attending some get together.
In Future Reading – 6 of Cups – Card of the Year 
An old man came to me for future tarot card reading and card that came for him for the Year –  6 of cups Card.

I told him that this month you may meet your old friends or people with whom you may have worked in the past or had any relationship with them.

In that month, he met his college friends after (approx.) 25 or 30 yrs. Now all of them are connected with each other and that person is very happy.
He met them at a music concert. (6 number in numerology is ruled by Venus which denotes art, beauty, music)
In Court Case-Litigation – 6 of Cups Card
An old man came up for Tarot Reading to know about his court case, litigation which is running from last few years. The card that came up for hearing date was six of Cups. Later on, he asked  me whether i will win court case or not? It was shocking but again 6 of cups card turn up. I gave prediction that you will win this case and something  in your favor will surely comes up at hearing datte   
Later in the evening  that person called me  and said nothing good took place. He said now the Court has given order to concern authority to verify that full property. Property court case was going on and his shop was part of that building. 
Background and Outcome of that Court Case – Litigation
In legal matter, he told me that his enemy(opposite side) filed a case against him.

All other shopkeepers who were part of that building were not willing to pay any advocate bill or legal expenses as they thought its fight of two shopkeepers.

After court ordered  to verify and cross check that full property whether there is any unauthorized construction in that building or not. 

But since the court instructed to verify full property, all shopkeepers got united. Later, all of them agreed  to share and paid money for all legal expenses which my client was paying off.

My client said with unity between all shopkeepers he was able to save around 50000 bugs.
Later on after few months, he won that court case also.
Six of Cups in Love, Relationship Reading denotes:
One boy approach me as he was curious to know his future regarding Love,Relationship status. He was not married.  The card that turn up for him was 6 of Cups and he told me he is single looking for someone.
I told someone from past may come in your life it may be your school friend or college friend or someone with whom you may have been in relationship. After few days he told me that he is again in relationship and met her love partner in one of their friend's marriage and since then they are in relationship. Again role of Venus coming out in this card.
Six of Cups in Studies
One of student who is learning interior designing course came to me for Tarot Reading. He had to give some competitive exam in future related to his education and this card Six of cups came up for that exam. I told him you are likely to get rewarded for your old work or projects.  Result – He came in the TOP 3 list from his institute among 50 students.
In Career Reading – Six of Cups 
A person took Tarot Card reading regarding his future in Career. In Career reading, 6 of cups shows:
He may be working in some partnership.
May get some help from someone with whom he might have work in the past.
Later on after few months he told that he and his colleagues who used to work together in some company, now have open their new company together. Their two more friends will also join them soon.
This is a good card if it comes in future career reading.
This article got published in magazine – Jyotish Satya.
If you like my articles don't forget to subscribe, share, like and comment.
For more updates press the like button for my page Tarot School Of India – https://www.facebook.com/tarotschoolofindia/