SIX OF CUPS
BY TAROT CARD READER VINEET SAKHUJA (9711112410)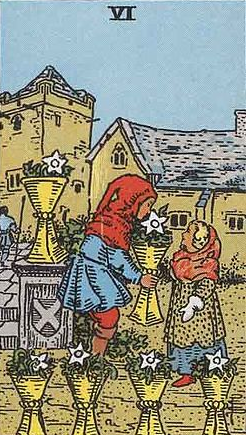 Tarot is a beauty. I have been working on tarot for few years. Every time I do tarot, I realize how beautiful it is. Six of cups is one of the good minor arcana card. In this article i have shared my experience(case studies) when 6 of cups have come in questions like for relationship, career , studies and in future card position. 
This article got published in magazine – Jyotish Satya.
CUPS card
Element: Water
CHARACTERSTICS
Cups are about emotions, sensitive, caring, nurturing, relationship oriented, kind, friendly and artistic.
CARD Number is 6 and 6 in numerology it is ruled by VENUS and Venus is the karka of marriage, love, relationships, art, music etc.
Whenever we see any card, it's very important to see the whole picture, symbols, colors etc.
6 of cups is the only cup card out of all cups card where cups are filled with beautiful flowers.
Keywords for this card:
Sharing and reconciliation, honest, thinking about old times, happy memories, meeting old friends or relatives, emotional card, get together card, celebration, gifts, inheritance, dealing with children, innocence.
INTERPRETATION
Two people are involved in the giving and receiving of cup which is full of flowers. Since this cup is full of flowers hence it shows harmony between them.
In this situation it may mean you may get chance to meet your old friends, or people from past with whom you may have worked or stayed in relationship with them. This card also asks to express your emotions.
Case studies on this card
Example 1
(Six of cups in future card position)
An old man came to me for tarot card reading and for that month card came was 6 of cups. I told him that this month you may meet your old friends, or people with whom you may have worked in the past or in relationship with them. in that month, he met his college friends after (approx.) 25 or 30 yrs. Now all of them are connected with each other and that person is very happy. He met them at some music concert. (6 VENUS- art, beauty, music)
Example 2
(Six of cups in court case-litigation)
This card once came in someone's court case for hearing on a particular day.  I told him that something will come in favor of you and you may meet someone from your past life that may also help you out in this case. Late in the evening that day, that person gave me a call and told nothing good happened and the court had asked to verify his full property as there was some property case and his office was part of that building. So full building was to be verified.
In legal matter, he told me that person filed a case against him and all other persons who were part of that building and no one was interested in paying advocate bill as they thought its fight of two shopkeepers. After court order for this whole building, all who had not paid for property in this building made a contribution of advocate bill and all other legal expenses. The man who got tarot done for this case told that he saved around 50000 bugs and it was a sort of gift as everybody agreed to make a contribution and later on after few months he won the court case also.
Example 3
(Six of cups in relationship)
One boy approached me for tarot and took relationship consultancy. This card came and he told me he is single looking for someone.
I told someone from past may come in your life it may be your school friend or college friend or someone with whom you may have been in relationship. After few days he told me that he is again in relationship and met her partner in one of their friend's marriage and since then they are in relationship. Again role of Venus coming out in this card.
Example 4
(Six of cups in studies)
One of student who is learning some interior designing course approached me. He was giving some competitive exam and this card came up and I told him you are likely to get rewarded for your old work or projects and later on he told me that he was in the TOP 3 list of his institute from 50 students.
Example 5
(Six of cups in Career)
A person made a query to me regarding his business and this card came. I told him he may be working in some partnership or he may get some help from someone who may have worked with him in the past.
Later on after few months he told that he and his colleagues they used to work together in some company and now have open their new company together and 2 more friends have also joined them.
This article got published in magazine – Jyotish Satya. Sharing image of this article that got published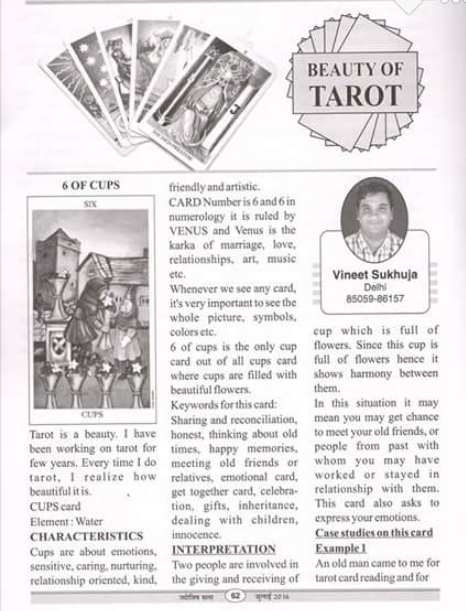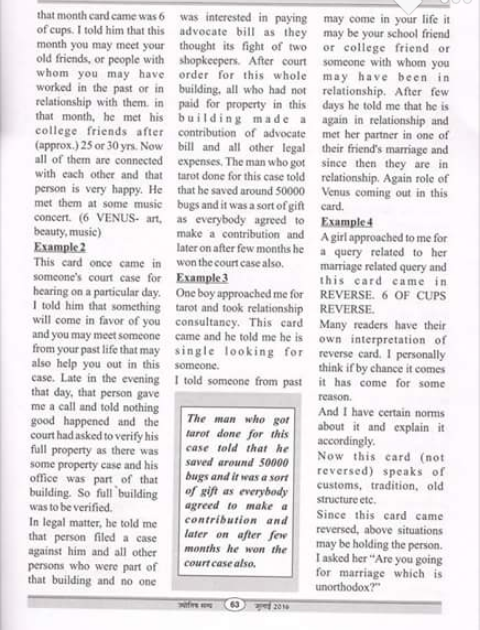 If you like my articles don't forget to subscribe, share, like and comment.
For more updates press the like button for my page Tarot School Of India – https://www.facebook.com/tarotschoolofindia/
You can also read articles on various spreads, like how to read tarot cards for yourself and clients. Various spreads are covered with how you can read them and I have shared my case studies, examples with it. Various tarot spreads like 3 card spread(with astrology also), 5 card tarot spread, celtic cross tarot spread(with astrology also), yes/no, marriage predictions(will I get married to my lover, relationship with husband/wife in future), education related query like (will my son/daughter get admission in desired college), career prediction (like will I get job in this company etc), medical related query (when I will get recovered from health issues). Articles on Top 10 cards which may symbolizes success, happiness and prosperity in career, finance, love(relationship) are mentioned. For all my articles you can check my blog – https://tarotschoolofindia.com/blog/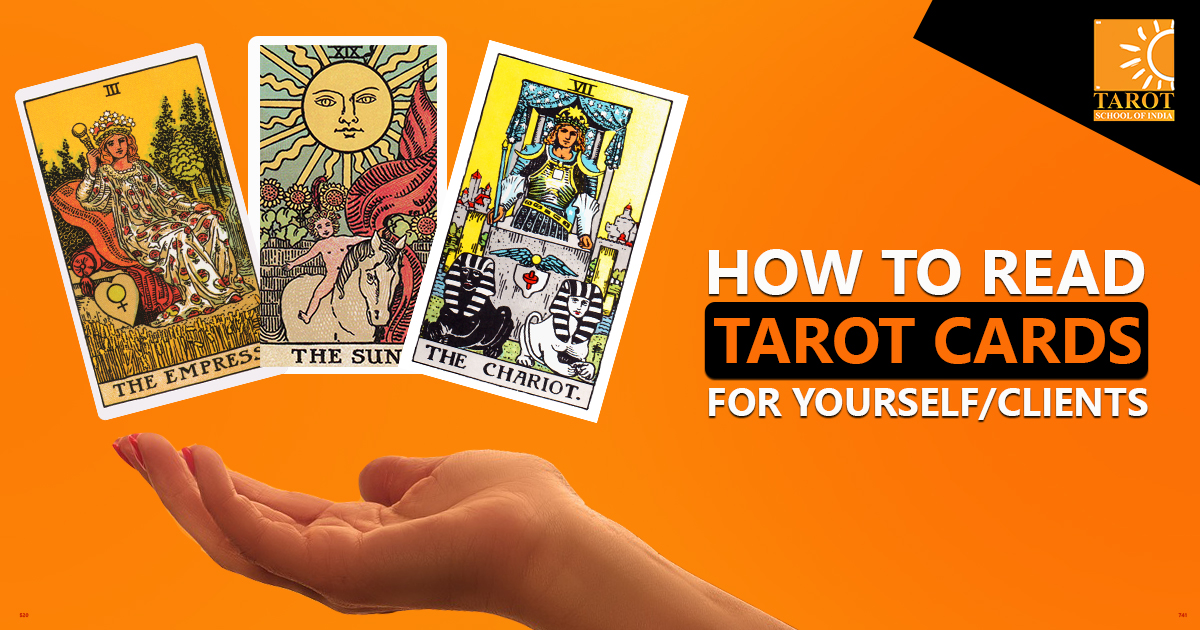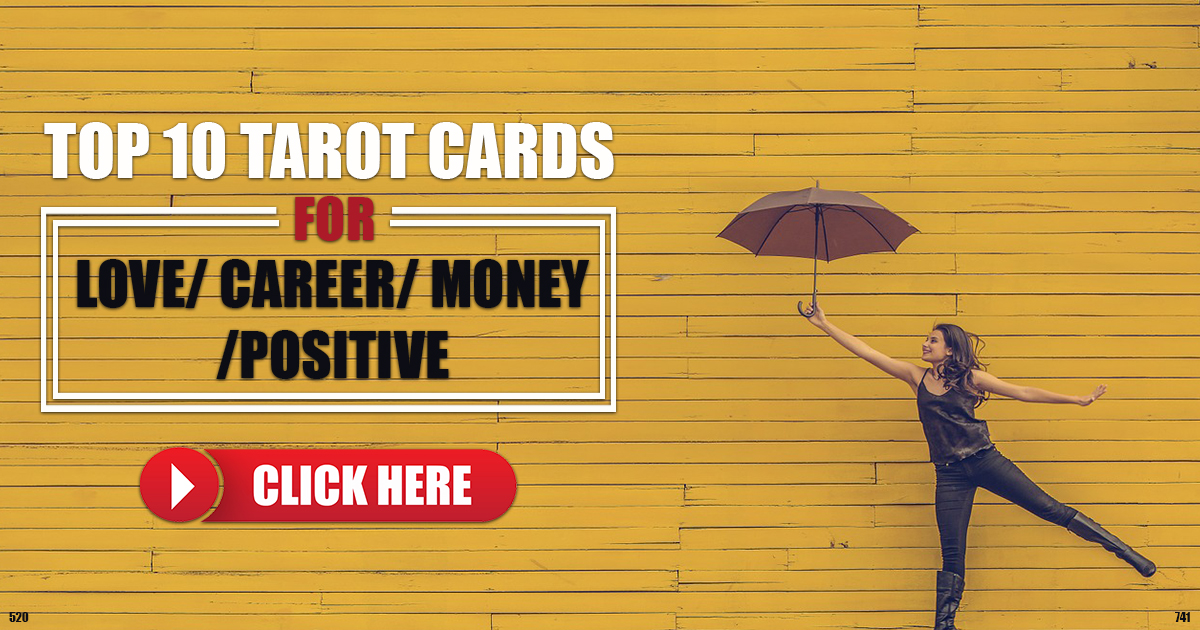 PREDICTIONS FOR  ZODIAC SIGNS 2019