The Tower Tarot Card
One of the most negative Tarot cards is The Tower Card. When this Major Arcana tarot card comes in tarot card reading – expect the unexpected, rapid and major changes in life. Card no is sixteen(16). Sixteen(16) is the number which is karmic in nature and speaks of restlessness, challenges in our lives that compel us to make changes.
Image Description for The Tower Tarot Card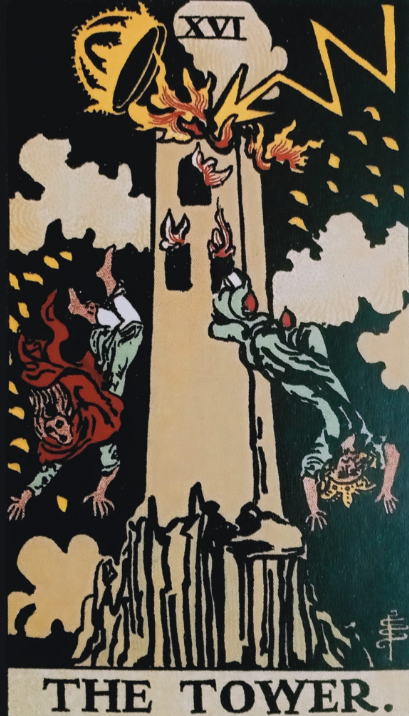 In the above picture in The Tower Tarot Card, we see two people fall from a blazing tower which has been struck by lightning. A crown topples from the roof of the tower and one of those falling still wears a crown. The tower which has been hit by lighting and is in the point of collapse. Grey clouds are here that are misfortune and troubles. In this card, Black sky denotes Loss of horizon and troubleful time. Change in an unexpected and external manner. By look on face of man and women, they had no idea this was coming, had no time to save their possessions. Lightning strikes and flames burst from the building's window.
Keywords for The Tower Tarot Card:
Here are the keywords for this major aracana card – The Tower Card. Tarot beginners should remember these keywords while giving predictions to querent.
Sudden and unexpected life changes when this The Tower tarot card comes in reading.

Bolt from the sky.

Disappointment

Belief systems crumble.

An event which may change your life

Destruction.

Title crown also falls indicates loss.

Change is sudden and violent.

Suddenly coming across the truth.

Chaos all around.

Change in fortune.

Crisis point

Disruption

Emergency-crisis

Painful experience

Sudden downfall
Meaning of The Tower Tarot Card
The Tower Tarot Card is one of the major arcana cards among 22 Major Arcana cards .
The tower represents the inner and outer structures that we have built and these structures basically represent our personal belief, thoughts and feelings and they are built on false promises.

Your attitude about life no longer supports you.

Change is sudden and violent.

We may feel are not responsible for it and set of circumstances or situation is not in our hand.

This tarot card represents the circumstances and situations that restrict and creates inhibition.

Tower can provide a protection, providing a wide view as well as height but it represents a structure of false or outgrown values. Structure on which we have built our lives need to be tore down, for they no longer support the truth of which we are.

This card speaks of unavoidable change and loss of security. This card signifies extremely shaky situations that will come.

It represents a time when your foundations are shaken to the very core.

Title crown: loss of control, authority, money, name etc. The crown is moved only when a new king is to be crowned. Generally effects are felt for a long time. It can indicate a long term sense of loss, grief etc.

Conflicts can be very much there and change can be brutal and change is forced upon you whether you want it or not.
Situation is bad and we feel trapped. Disruption brings enlightment. You are forced into a new phase whether you are ready or not.
It signifies a structure or a pattern which simply cannot continue to exist. Person will go through major changes and things will never be same.
Change seems to be coming into your life out of nowhere.
Violent up heal is in the offing.
A particular event will bring an awareness that we can't deny.
The Tower Tarot Card Association with Astrology:
Tarot Card and Astrology are interrelated. The Tower Tarot card is associated with Mars, a planet that's bold, courageous and daring.
The Tower Card in Finance/Money Tarot Card Reading:
If question is related to finance/money and The Tower card comes in tarot reading in such question, then  expect some major changes unfortunately on the negative side.
Rapid changes in you financial conditions like you might see a huge setback in your finances.

At times it may speak of bankruptcy or huge loss.

Unexpected changes will come in which you may not have even thought of.
Like your loan is not passed which you were expecting to.
Person who might have promised you to pay might not pay you money.
If this card comes for month finance and if you do invest in share market then think twice or thrice before investing in share market.
The Tower Tarot Card in health reading:
The Tower card in heath tarot card reading indicates bad time for the health of the concern querent. 
Be very careful as you may have lot of sudden and unexpected health issues coming in future.

It can be brutal also. Like heart attack, accident etc….even surgery can't be ruled out.
The Tower Card in Career/Work reading:
When the Tower Card comes in Career/Work Tarot Reading then, 
Expect unexpected change in your work place or in job. Like transfer all of sudden or you might come across situation where you might lose job.

It basically shakes our beliefs for work matter. Major transformation may come in.

You will have to accept change no matter whether you want it or not.

Generally one is clueless when this card comes in. You might not get promotion if you are expecting it and even though you might be deserving it but you still won't get that promotion.

False sense of security crumbles and illusions regarding could be for shock or unexpected change in your job situation.
The Tower Card in Love/Relationship/Marriage in Tarot Card Reading:
In case of Love/Relationship/Marriage Tarot Card Reading, if this card "The Tower" Tarot Card comes expect some shocking news in your love life.  
Major change will come in and this change will be very brutal and unwanted.

It may give immense pain as this is one of the most negative cards among all Tarot Cards, that's why expect sudden changes when The Tower Card comes in reading.

One of my clients came and ask for marriage of his sister and this card came in and told yes in past they did roka of his sister and later on they came to know about groom's family was not good as they were very greedy and took home and office on loan but told them they are owner of it etc. Mainly they were cheating and groom was heavy drunker and then later on they cancelled that relationship.

Collapse in a relationship/End of Relationship if the Tower cards comes in future position.
Client Question
One of my clients came and asked a question : "Will I get job in this company?"  Card came for that question –  "THE TOWER CARD"
Case Study for The Tower Tarot Card
Above i have explained the meaning of the Tower Tarot Card. Now I will share what I told to my client question. I told him no. You won't get this job. He said he knows someone who give him guarantee that he will get this job. Some close relative of friend of him works in that company.  My answer is you won't get this job.
He told me he will come to know after certain days may be like 8 or 10 days.  Unfortunately, he didn't got the job in that company. He  was highly disappointed as he left some other job offer reason being,  he wanted to work in this very reputed company that he asked for.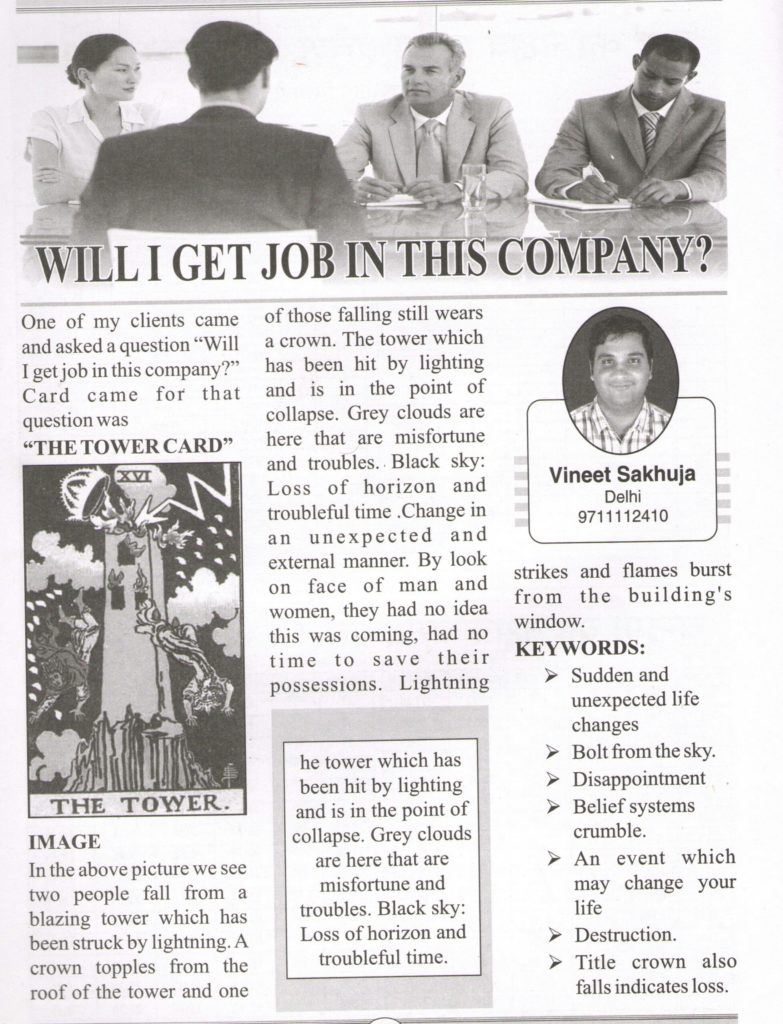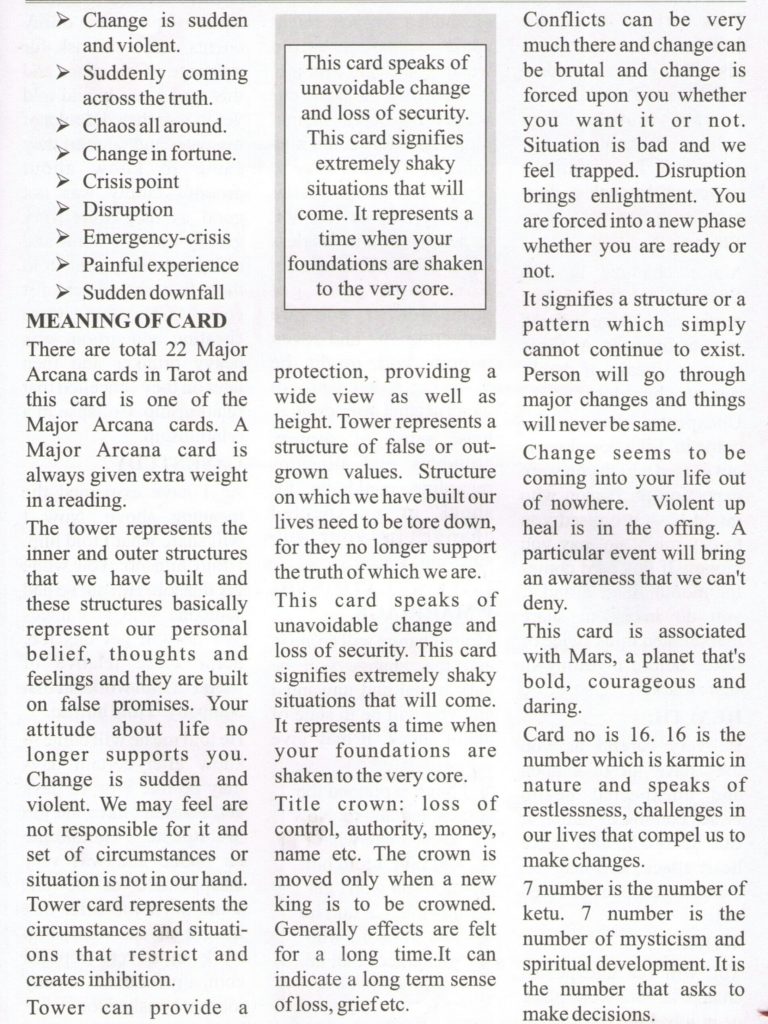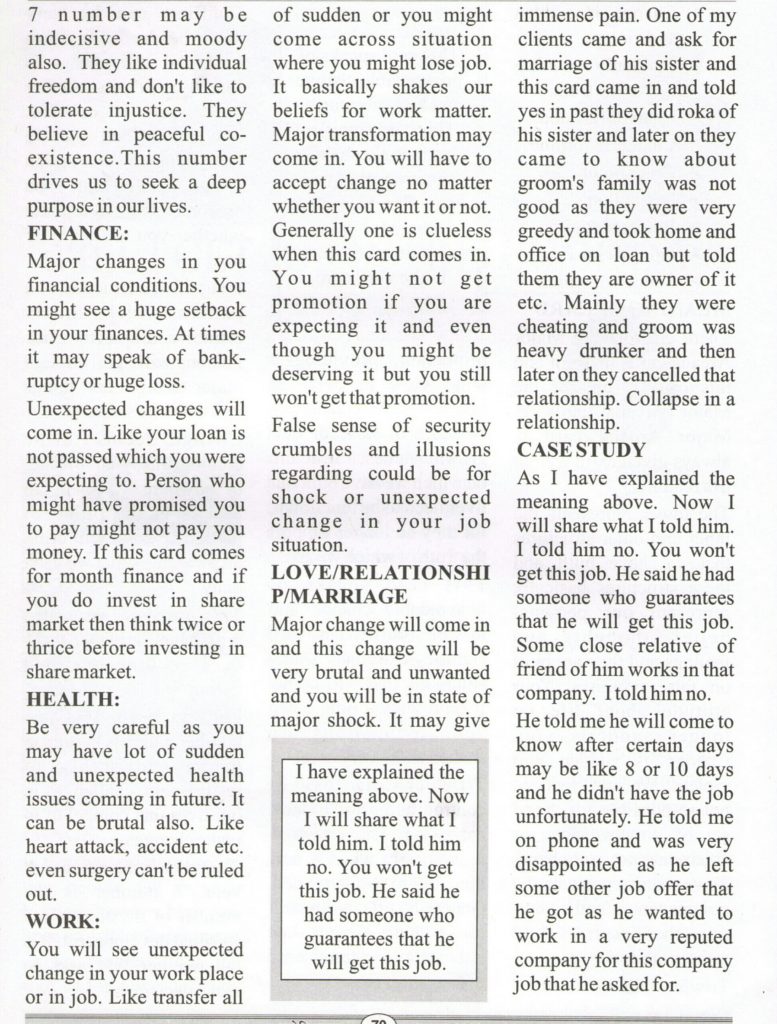 Subscribe and Share
If you like my articles don't forget to subscribe, share, like and comment.
For more updates press the like button for my page Tarot School Of India – https://www.facebook.com/tarotschoolofindia/
Once you subscribe you will get all the notifications on your email id.
Read my popular Articles by Astrology and Tarot:
How to read Tarot Cards easily
Three Card Tarot Spread 
Love Relationship Reading 
5 Card Tarot Spread –
Prediction by Tarot and Astrology
Check how to read Celtic Cross Tarot Spread in easy way-
How to read promise in birth chart and marriage life with dasha by Astrology
Best Love Tarot Spread –
Marriage Life Prediction by Astrology –
Future Love Life Prediction by Tarot
Angelina Jolie Horoscope – Birth Chart Predictions

Book Your Tarot and Astrology Reading: