HOW TO DEVELOP INTUTION
We all have intitutive skills within us, what we need is to listen to our self-more and recognize it. Intuition always helps and guide us. As we grow into an adult we might sideline our intuition as our mind is preoccupied with concerns for ourself as our family/career/finace/status in the society. In this view we forget to listen to our inner soul and focus on the materialistic world.
If we want to develop or sharpen our intituive skills more, we need to listen to our inner voice more often.
Intitution is like you feel that this thing is going to take place, but without any reason you feel that and it happens. Its likes sixth sense. You can judge something.
For example in film Jannat, Emraan Hashmi was able to judge like Sourav Ganguly is going to hit six, Sehwag will hit 4 runs, India will win etc.(I may give this example in below points)
(This article got published in the magazine Express Star Teller in Oct'2018. Below I am sharing the scan copy of the article.)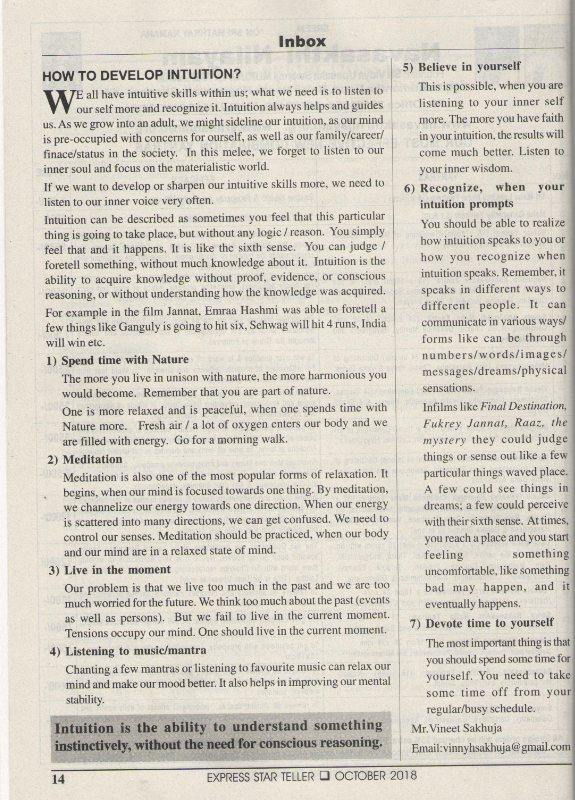 1) Spend time with Nature

The more you live with nature, the more harmonious you become. Reminder, you are part of nature. As you live with nature more, the more harmonious you are.
One is relaxed more when one spends time with nature more reason as oxygen enters our body and we are filled with energy. By spending time with nature, you are relaxed and are at peace. Go for a morning walk.
2) Meditation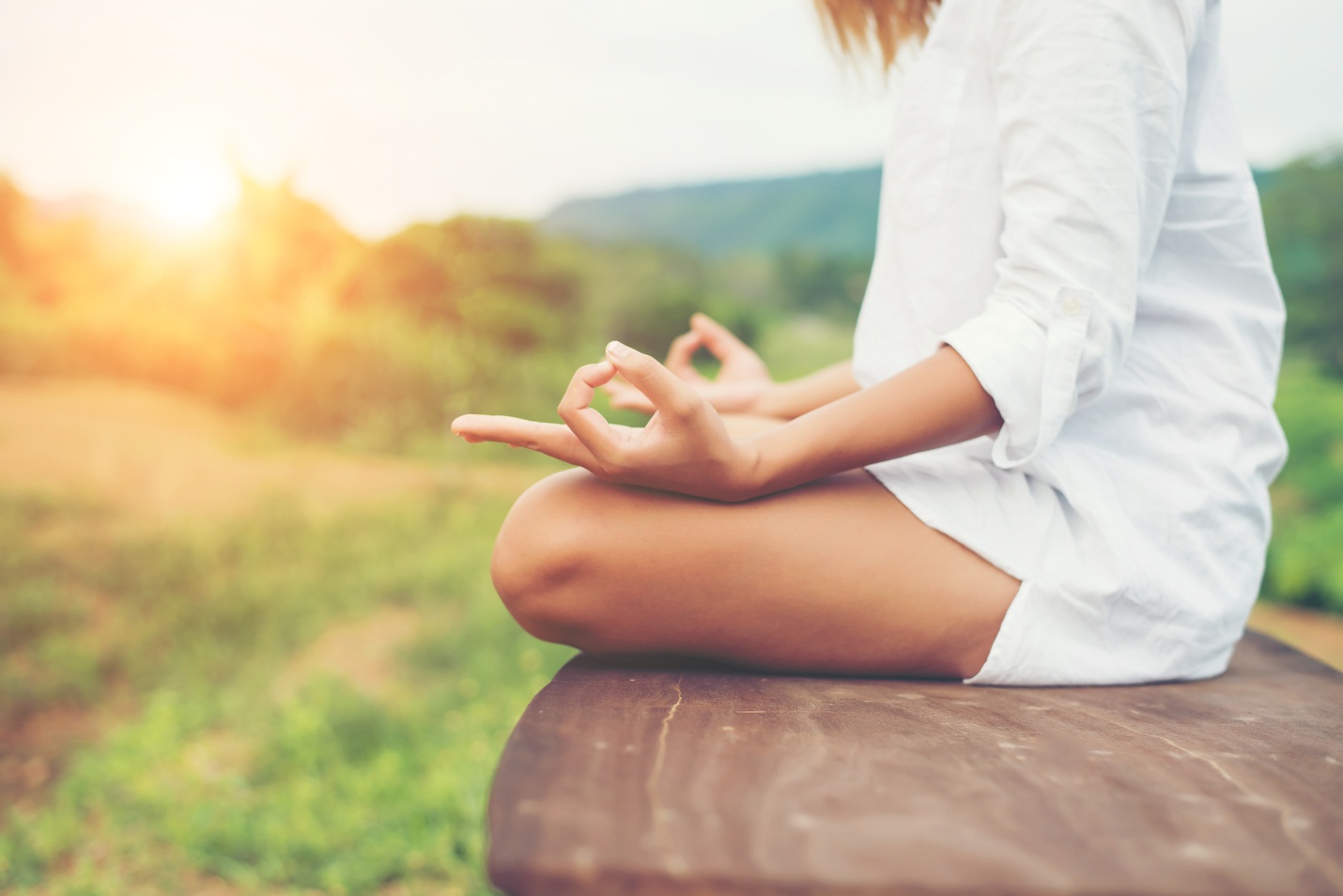 Meditation is also one of the most popular forms of relaxation. It begins when our mind is focused towards one thing. By meditation, we channelize our energy towards one direction. When we direct our energy into many directions, we can get confused. We need to control our senses. Meditation begins when your body and your mind are in a relaxed state of mind.
3) Live in the moment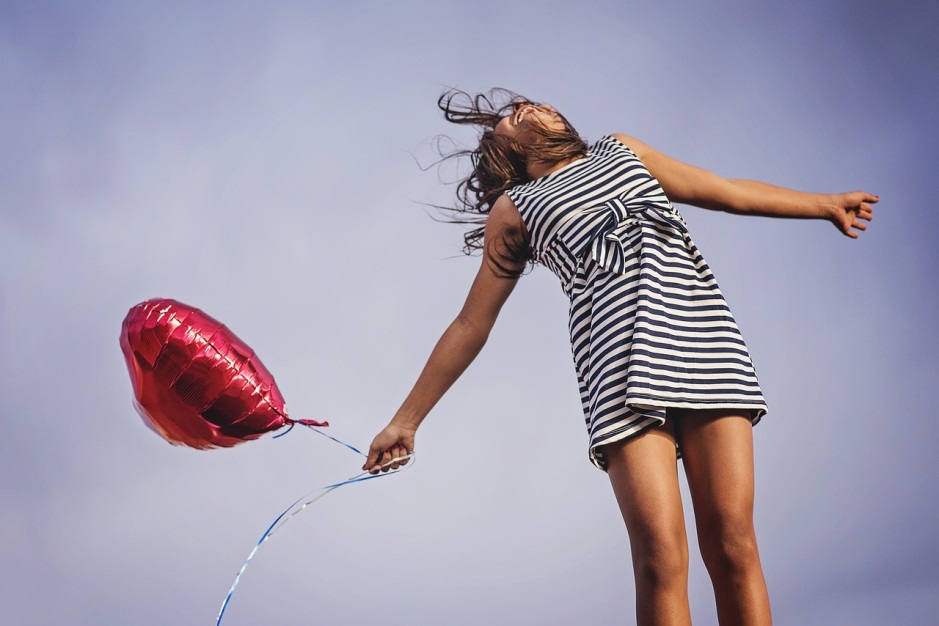 Our problem is that we live too much in the past and we are too much worried for the future. We think too much about the past (this happened, this person did that and that happen etc). But we fail to live in the current moment. Tensions occupy our mind. One should live in the current moment.
For example in many films – A beautiful message like learn to live in the present
For example Film – roti, Rajesh Khanna
For example Film –  Kal ho na ho
Film – Rajesh Khanna Babu Mushay
4) Listening to some music/mantra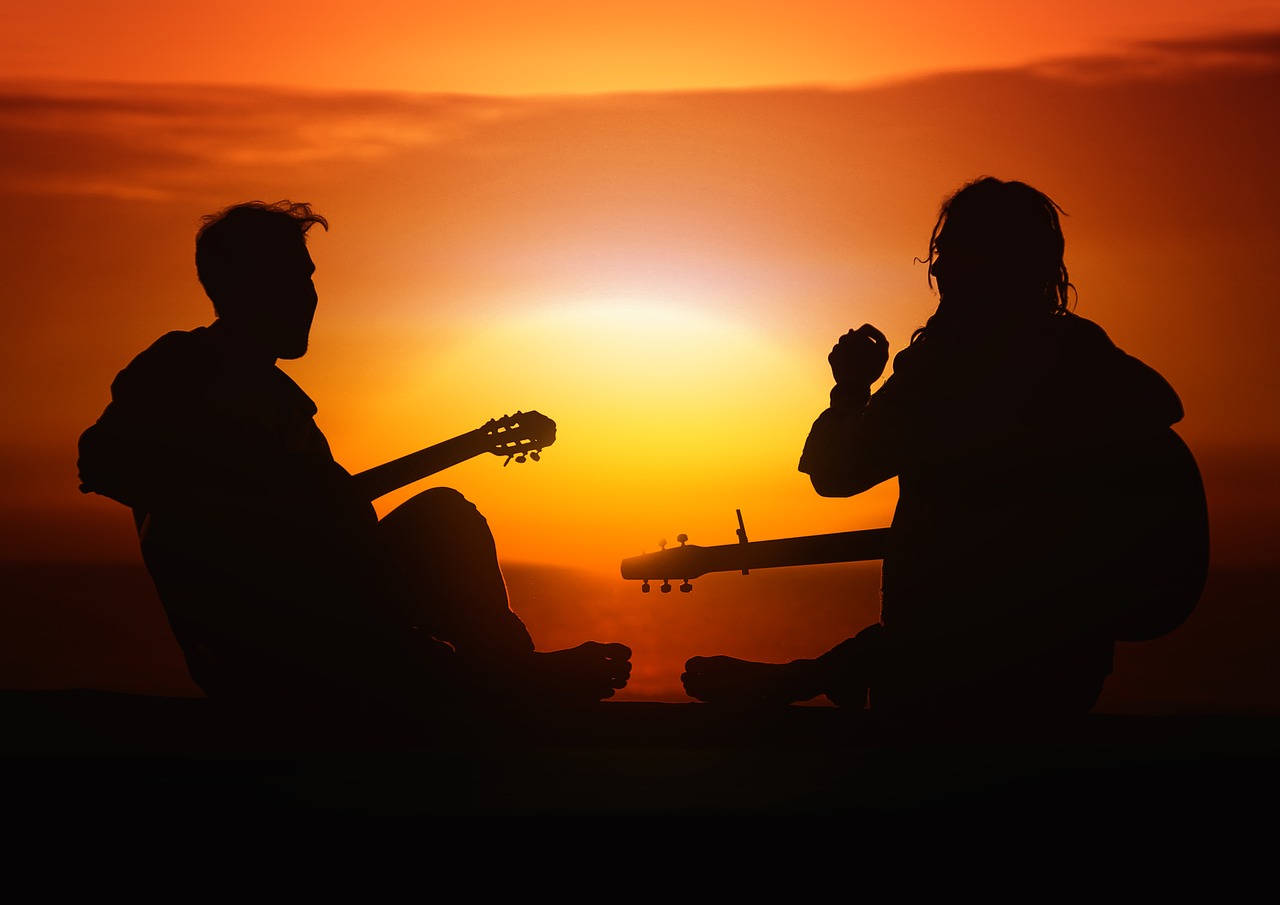 Chanting some mantras or listening to some music, relax our mind and makes our mood better. It also helps in improving our mental stability.
5) Believe in yourself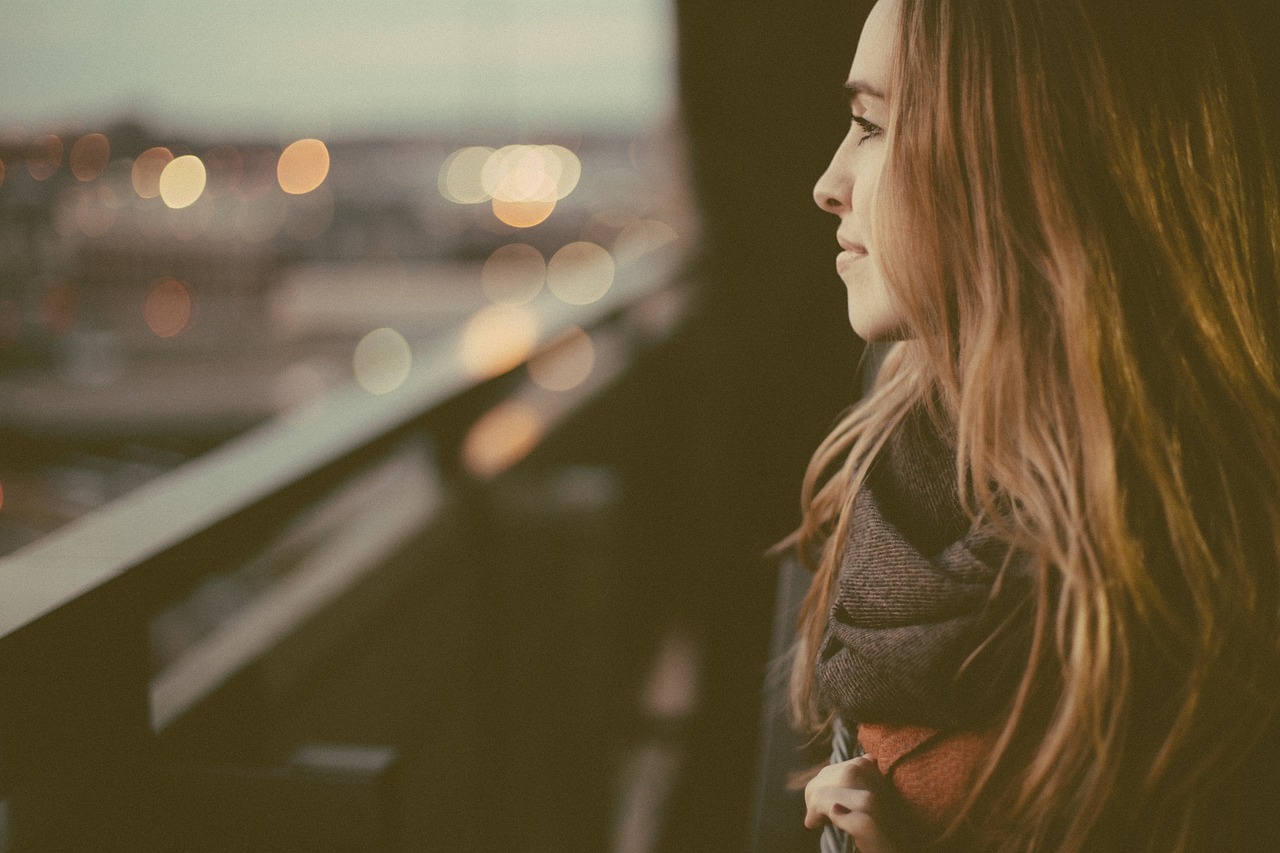 This is possible when you are listening to your inner self more. The more you have faith in your intuition, the results will come much better. Listen to your inner wisdom.
6) Recognize when your intuition says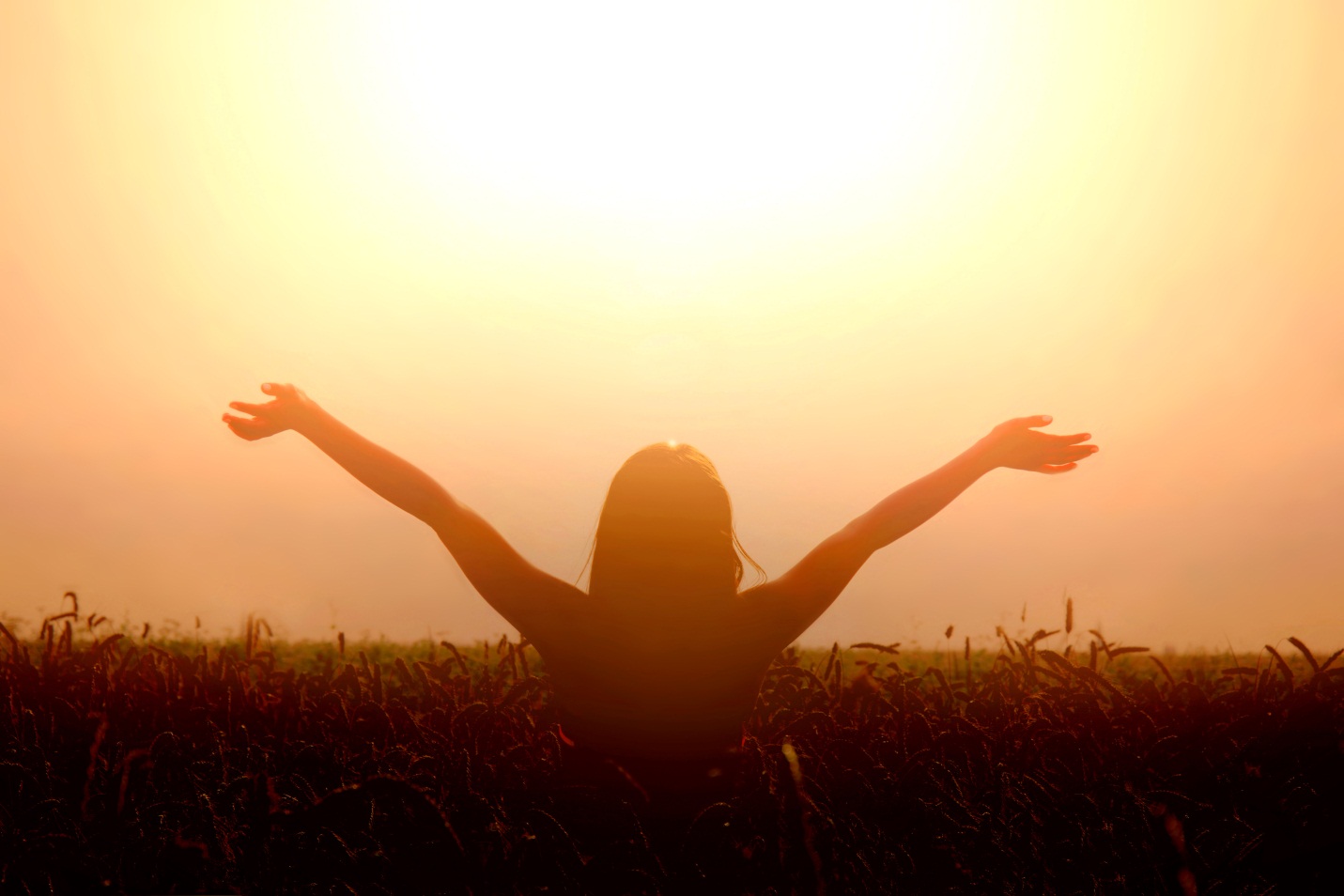 You should be able to realize how intuition speaks to you or how you recognize when intuition speaks. Remember, it speaks in different ways to different people. It can communicate in various ways/forms like can be through numbers/words/images/messages/dreams/physical sensations.
For example – Film Final Destination
Film Fukrey
Jannat
Raaz – the mystery
All above, they could judge things or sense out like these things may take place.
Few could in dreams, few could with their sixth sense.
At times, you reach place and you start feeling something like let's say you feeling not comfortable like something bad may happen, and it eventually happens.
7) Devote time to yourself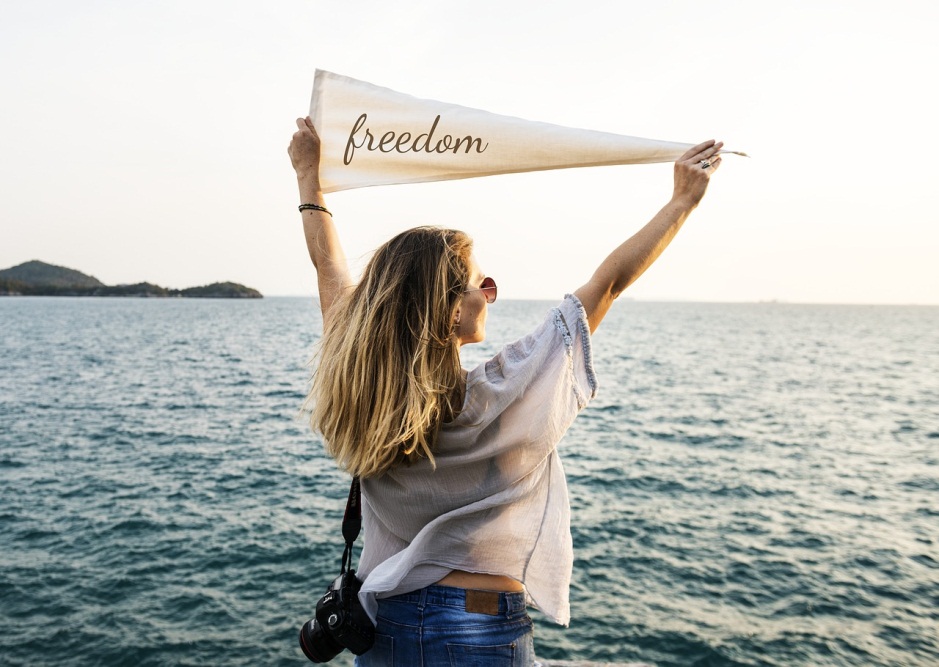 It's one of most important thing you should preserve some time for yourself. Need to take some time from your regular/busy schedule and seek time for your own self.
Developing Intuition and Role of Intuition (in Tarot Reading) have a strong connection to each other. So while reading the articles have a look on each article carefully.
Click this link to know – Role of Intuition in Tarot Reading
https://tarotschoolofindia.com/role-of-intution-in-tarot-reading/
If you like my articles don't forget to subscribe, share, like and comment.
For more updates press the like button for my page Tarot School Of India – https://www.facebook.com/tarotschoolofindia/
You can also read articles on various spreads, like how to read tarot cards for yourself and clients. Various spreads are covered with how you can read them and I have shared my case studies, examples with it. Various tarot spreads like 3 card spread(with astrology also), 5 card tarot spread, celtic cross tarot spread(with astrology also), yes/no, marriage predictions(will I get married to my lover, relationship with husband/wife in future), education related query like (will my son/daughter get admission in desired college), career prediction (like will I get job in this company etc), medical related query (when I will get recovered from health issues). Articles on Top 10 cards which may symbolizes success, happiness and prosperity in career, finance, love(relationship) are mentioned. For all my articles you can check my blog – https://tarotschoolofindia.com/blog/
PREDICTIONS FOR ALL ZODIAC SIGNS 2019