Nirjala Ekadashi 2021
Nirjala Ekadashi is considered the most auspicious among all Ekadashis. The Ekadashi of Shukla Paksha(waxing moon) of Jyeshtha month is called Nirjala Ekadashi.
It is beleived that whoever observes a fast on Nirjala Ekadashi, gets virtue for the entire year.
As per the Greogian calender, Nirjala Ekadashi falls in May or June month.  Devotee should workship Lord Vishnu like they do in every Ekadashi.
Keeping fast on this Ekadashi is considered most toughest one.  On Nirajala Ekadashi, fasting is done by staying without water, hence it is known as "Nirjala", which means waterless.
Nirjala Ekadashi is also known as Bhimseni Ekadashi.
Nirjala Ekadashi Date :2021
Ekadashi Tithi begins –  04:21 PM on Jun 20, 2021 
Ekadashi Tithi ends on 01:31 PM on Jun 21, 2021
Nirjala Ekadashi on Monday that is 21 June, 2021
What to do on Nirajala Ekadashi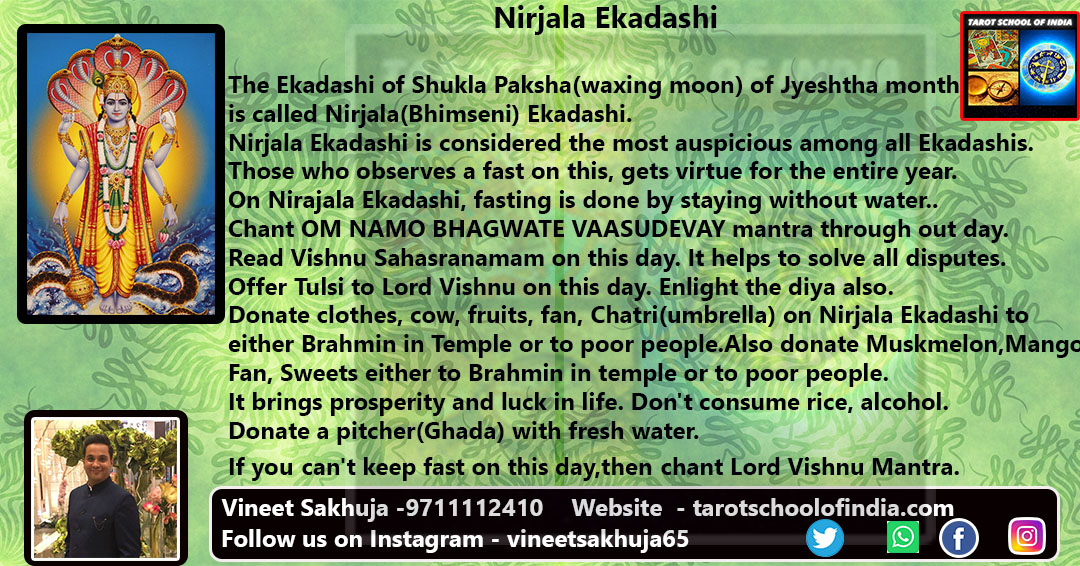 Chant OM NAMO BHAGWATE VAASUDEVAY mantra through out day as much as you can.
Read Vishnu Sahasranamam on this day. It helps to solve the issues and conflict, if you are facing in your home.
Offer Tulsi to Lord Vishnu on this day. Enlight the diya also.
Donate clothes, cow, fruits, fan, Chatri(umbrella) on Nirjala Ekadashi to either Brahmin in Temple or to poor people.
Don't consume rice, alcohol etc on auspicious day of Nirjala Ekadashi. Try to avoid physical relationship during above time period.
Always do some donation on this auspicious Nirjala Ekadashi day. It brings prosperity and luck in life.
Devotees should workship Lord Vishnu with fruits, incense sticks, flowers, dhoop etc to evoke the deity.
Try to read Bhagwat Geeta also.
To get blessing of Lord Vishnu, please do prayer of Lord Vishnu with full faith and dedication.
Donate a pitcher(Ghada) with fresh water.
Also donate Muskmelon, Mango, Fan, Sweets either to Brahmin in temple or to poor people.
In case if you can't keep fast on this day due to health or some unavoidable reasons, then try to chant Lord Vishnu name as much as you can through out this Nirjala Ekadashi. Lord Vishnu always protects his devotees, specially one who keeps fast on this auspicious day of Nirajala Ekadashi.
Story of Nirjala Ekadashi
I am sharing here story and significance of Nirjala Ekadashi.
Nirjala Ekadashi is also known as Bhimseni Ekadashi.
Bhimsen being voracious eater, was not able to control his desire of having food and was not able observe Ekadashi fasting. All Pandava brothers and Draupadi except Bhima used to observe all Ekadashi fasting. Bhima got upset due to his weak determination and didn't wanted to dishonor Lord Vishnu.
Bhima asked Maharishi Ved Vyas Ji that without observing Ekadashi fast, how can one get the virtue of fasting on Ekadashi? Maharishi Ved Vyas then advised Bhima to observe Nirjala Ekadashi fast to compensate for not observing all Ekadashi fasting in a year.
Due to this legend Nirjala Ekadashi is also known as Bhimseni Ekadashi or Pandava Ekadashi.
Vyas ji told Bhima to observe fast on Nirjala Ekadashi by abandoning food and water. By doing this one gets the fruits of all Ekadashi fasts. Following his advice, Bhima completed the fast of Nirjala Ekadashi.
निर्जला एकादशी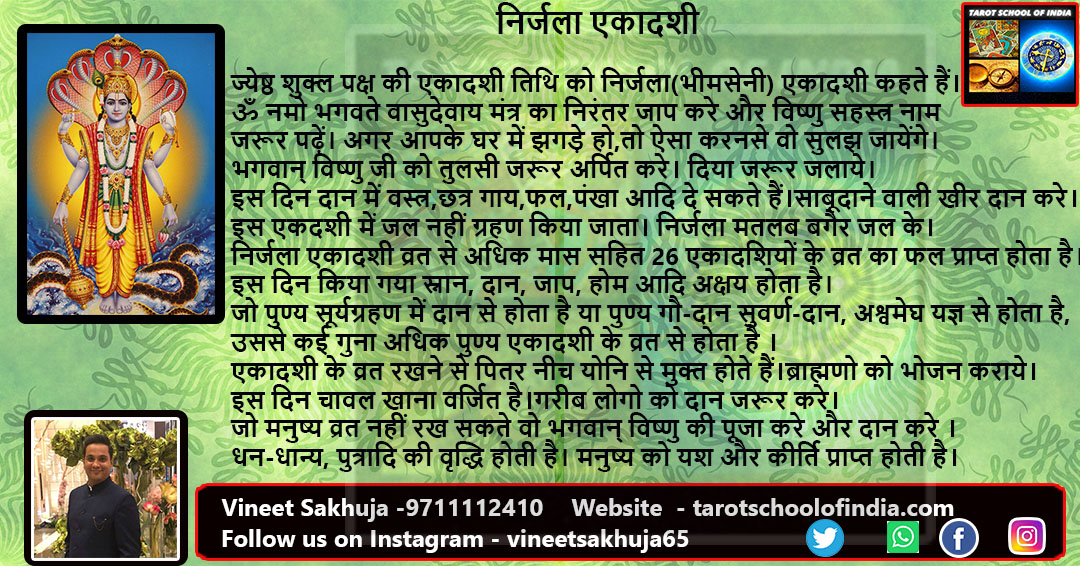 ज्येष्ठ शुक्ल पक्ष की एकादशी तिथि को निर्जला(भीमसेनी) एकादशी कहते हैं।
निर्जला एकादशी 2021 समय
निर्जला एकादशी सोमवार, जून 21, 2021 को
एकादशी तिथि प्रारम्भ – जून 20, 2021 को 04:21 पी एम(PM) बजे
एकादशी तिथि समाप्त – जून 21, 2021 को 01:31 पी एम (PM) बजे
पारण तिथि के दिन द्वादशी समाप्त होने का समय – 10:22 ए एम
निर्जला एकादशी के दिन क्या करे
विशेष – 21 June, सोमवार को निर्जला एकादशी का व्रत (उपवास) रखें ।
ॐ नमो भगवते वासुदेवाय मंत्र का निरंतर जाप करे और विष्णु सहस्त्र नामजरूर पढ़ें। अगर आपके घर में झगड़े हो,तो ऐसा करनसे वो सुलझ जायेंगे।
भगवान् विष्णु जी को तुलसी जरूर अर्पित करे। दिया जरूर जलाये।
इस दिन दान में वस्त्र,छत्र, गाय,फल,पंखा आदि दे सकते हैं।साबूदाने वाली खीर दान करे।
इस एकदशी में जल नहीं ग्रहण किया जाता। निर्जला मतलब बगैर जल के।
निर्जला एकादशी व्रत से अधिक मास सहित 26 एकादशियों के व्रत का फल प्राप्त होता है।
इस दिन किया गया स्नान, दान, जाप, होम आदि अक्षय होता है।
जो पुण्य सूर्यग्रहण में दान से होता है या पुण्य गौ-दान सुवर्ण-दान, अश्वमेघ यज्ञ से होता है,उससे कई गुना अधिक पुण्य एकादशी के व्रत से होता है ।
एकादशी के व्रत रखने से पितर नीच योनि से मुक्त होते हैं।ब्राह्मणो को भोजन कराये।
इस दिन चावल खाना वर्जित है।गरीब लोगो को दान जरूर करे।
जो मनुष्य व्रत नहीं रख सकते वो भगवान् विष्णु की पूजा करे और दान करे ।
धन-धान्य, पुत्रादि की वृद्धि होती है। मनुष्य को यश और कीर्ति प्राप्त होती है।
For more update, remedies, Astro tips, Tarot Tips, Vaastu tips. Follow us on Instagram – vineetsakhuja65
Book your Tarot & Astrology Reading for Love/Marriage Relationship, Career, Heath etc: