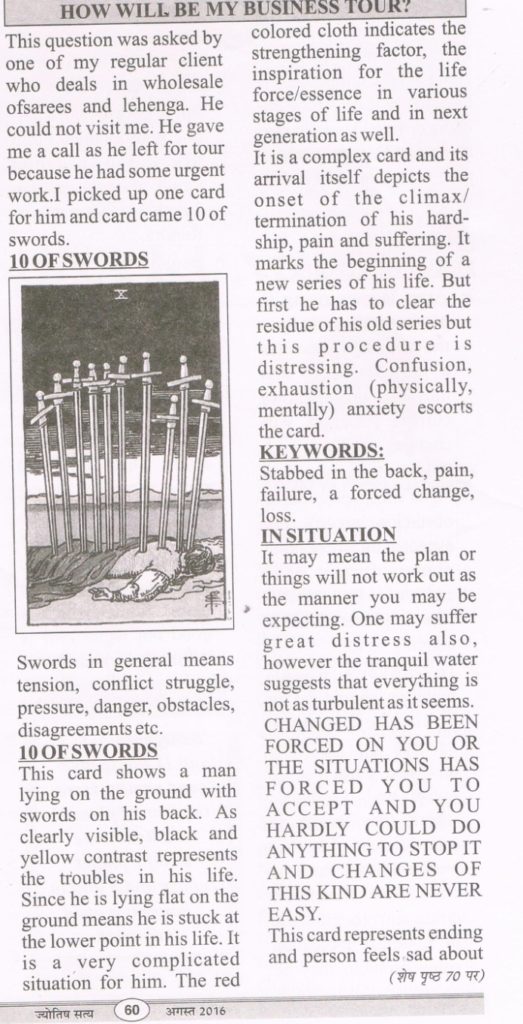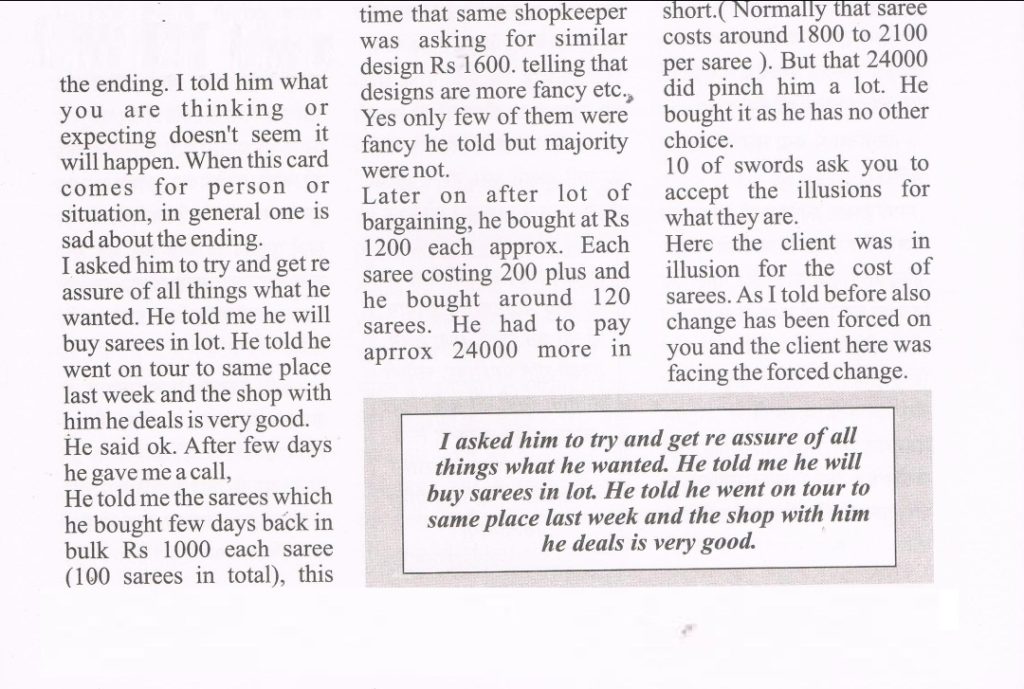 10 of Swords
BY TAROT CARD READER VINEET SAKHUJA (9711112410)
Ten of Swords is one of the most negative Tarot Cards. If it comes in Tarot Card Reading, answer will be on the negative side. I am sharing one of my case study below.
This question was asked by one of my regular client who deals in wholesale of sarees and lehenga. He could not visit me. He gave me a call as he left for tour because he had some urgent work. I picked up one card for him and card came 10 of swords.
10 OF SWORDS
Swords in general means tension, conflict struggle, pressure, danger, obstacles, disagreements etc.
10 OF SWORDS
This card shows a man lying on the ground with swords on his back. As clearly visible, black and yellow contrast represents the troubles in his life. Since he is lying flat on the ground means he is stuck at the lower point in his life. It is a very complicated situation for him. The red colored cloth indicates the strengthening factor, the inspiration for the life force/essence in various stages of life and in next generation as well.
It is a complex card and its arrival itself depicts the onset of the climax/termination of his hardship, pain and suffering. It marks the beginning of a new series of his life. But first he has to clear the residue of his old series but this procedure is distressing. Confusion, exhaustion (physically, mentally) anxiety escorts the card.
KEYWORDS:
Stabbed in the back, pain, failure, a forced change, loss.
IN SITUATION
It may mean the plan or things will not work out as the manner you may be expecting. One may suffer great distress also, however the tranquil water suggests that everything is not as turbulent as it seems.
CHANGED HAS BEEN FORCED ON YOU OR THE SITUATIONS HAS FORCED YOU TO ACCEPT AND YOU HARDLY COULD DO ANYTHING TO STOP IT AND CHANGES OF THIS KIND ARE NEVER EASY.
This card represents ending and person feels sad about the ending. I told him what you are thinking or expecting doesn't seem it will happen. When this card comes for person or situation, in general one is sad about the ending.
I asked him to try and get re assure of all things what he wanted. He told me he will buy sarees in lot. He told he went on tour to same place last week and the shop with him he deals is very good.
He said ok. After few days he gave me a call,
He told me the sarees which he bought few days back in bulk Rs 1000 each saree(100 sarees in total), this time that same shopkeeper was asking for similar design Rs 1600…telling that designs are more fancy etc. Yes only few of them were fancy he told but majority were not.
Later on after lot of bargaining, he bought at Rs 1200 each approx. Each saree costing 200 plus and he bought around 120 sarees. He had to pay aprrox 24000 more in short.( Normally that saree costs around 1800 to 2100 per saree ). But that 24000 did pinch him a lot. He bought it as he has no other choice.
10 of swords ask you to accept the illusions for what they are.
Here the client was in illusion for the cost of sarees. As I told before also change has been forced on you and the client here was facing the forced change.
If you like my article, you can like, comment and share it. Once you subscribe you will get all the notifications on your email id.