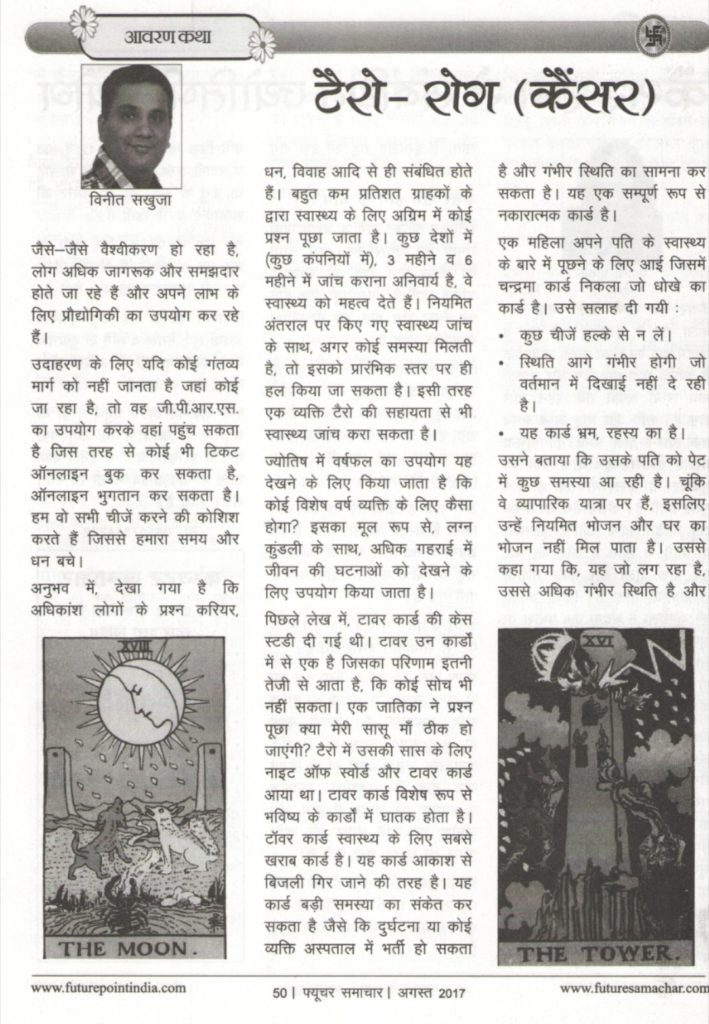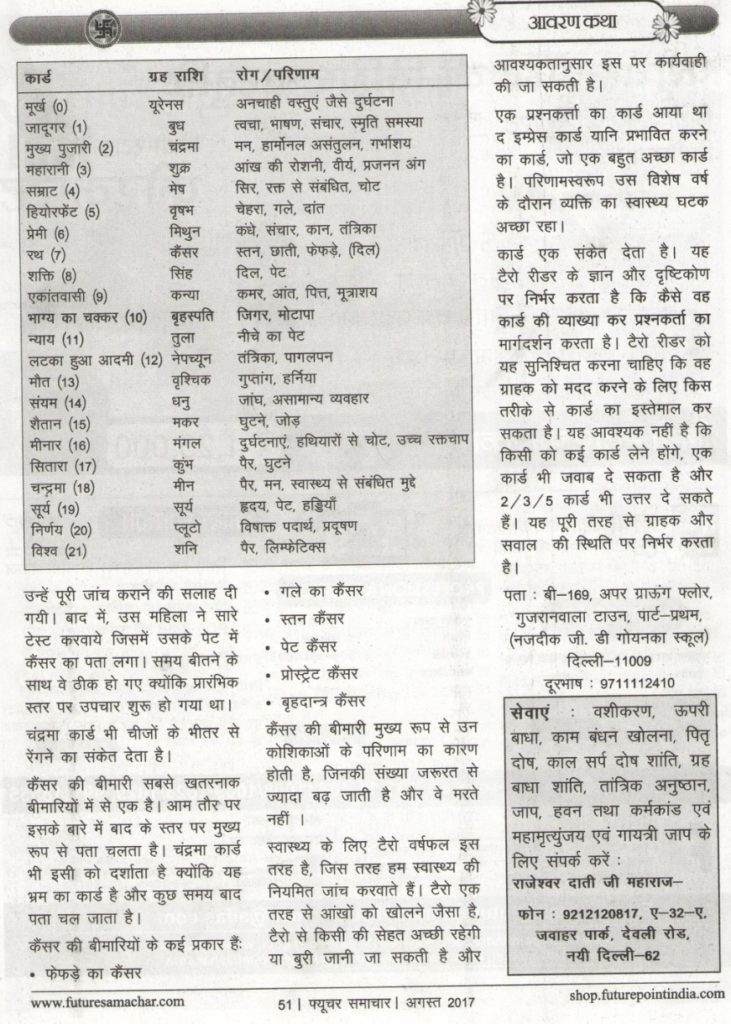 BY TAROT CARD READER AND JYOTISH ACHARYA VINEET SAKHUJA (9711112410)
As the world is getting globalized, people are becoming more aware and smarter and are using technology for its benefit.
For example
If one doesn't know the route to the destination where one is going, one can reach there by using GPRS. Similarly one can book tickets online, make payments online etc. We try to do all things which save our time and money.
In my tarot experience of dealing with clients, I have seen majority of questions are asked for career, wealth, affairs, marriage etc. Very less percentage of clients asks in advance for health. In few foreign countries (in some companies), it's compulsory to have checkup after a pre fixed time like after 3 months, 6 months. They value the health. With health checkup done at regular intervals, if any problem is found, it may be solved at initial level only. Similarly one can do health checkup with the help of tarot also.
In astrology, there is varshphal used which is made to see how will the particular year go for person. It's basically used with birth chart to see events of life in more depth.
I also give varshphal reading in Tarot to my regular clients. Those who take varshphal reading from me I have made mandatory to go for health varshphal.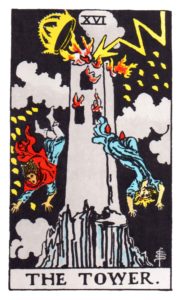 In my last article, the tower card came in one of the case studies and the tower card is one of the card that give results so fast, that no one can't even imagine that's why one of my students who was taking tarot classes from me in Mumbai (who came from other city), she could not fully attend her all tarot classes because her mother in law left the world all of sudden (but she had full hope she will get well soon but it happen the other way).  But cards like Knight of swords and the tower especially in future card had such impact and density. Tower card is one of the worst cards in health reading. This card is like bolt from the sky. It can indicate problem/major issue all of sudden like even accident it can indicate, one may get hospitalized and may face critical condition. It's a total negative card.  
I did varsphal reading for one of my clients. Card came was the Moon card.
Lady came to me for reading for her husband's health and card came was the Moon card- card of deception. I told her
Don't take things lightly.

Things are not well as might be appearing now.

Card if illusion, mystery.
She told that her husband is facing some problem in stomach, may be because as he is in travelling business, he is not having regular meals and homemade food.  I told her, its more serious than what it seems and I advise them to for full checkup. Later on, that lady informed stomach cancer is detected. Her husband recovered with passage of time as he was able to get the treatment at the initial level.  
The moon card also indicates things getting creep from inside.
Cancer disease is one of the most dangerous diseases. Generally one comes to know about it at later stage mainly. Why I am telling this because the Moon card also guides similar things as it's the card of illusion and one comes to know after some time period.
There are many types of cancer disease like
Lung cancer

Throat cancer

Breast cancer

Stomach cancer

Prostate cancer

Colon cancer
Cancer disease is formed mainly due to result of cells that uncontrollably grows and do not die.
Tarot varshphal for health is like we are doing regular checkup of health. Tarot is like an eye wash it will guide us like particular year is good or bad for wealth. Then one can take action as per requirement. I did varshphal for another client
Card came
The empress card which is a very good card and person had good health during that particular year.
Card gives an indication. It's the knowledge and approach of tarot reader who can guide more. A good tarot reader must make sure what card spread he can use to help out the client. Its not necessary that one has to pick many cards, even one card can answer so as 2/3/5 cards can answer. Totally depends on question of client and situation. I have given the table chart below what major arcana cards can indicate health issues.
For budding/aspiring Tarot Card Readers, I am providing Tarot Cards and Diseases they represent in a tabulated form.
| | | |
| --- | --- | --- |
| Card Name | Planet which rules/Zodiac Sign | Diseases |
| The Fool | Uranus | Unexpected things like accident. |
| Magician | Mercury | Skin, Speech, Communication, memory problem. |
| High Priestess | Moon | Mind, hormonal imbalance, uterus. |
| Empress | Venus | Eyesight, semen, reproductive organs. |
| Emperor | Aries | Head, blood related, injuries. |
| Hierophant | Taurus | Face, throat, teeth. |
| Lovers | Gemini | Shoulders, Communication, Ears, nerves |
| Chariot | Cancer | Breasts, Chest, Lungs, (Heart) |
| Strength | Leo | Heart, Stomach |
| The Hermit | Virgo | Waist,intestine,gall bladder |
| Wheel of fortune | Jupiter | Liver, obesity |
| Justice | Libra | Lower Abdomen |
| The Hanged Man | Neptune | Nervous breakdown, insanity |
| Death | Scorpio | Private Part, hernias |
| Temperance | Sagittarius | Thighs, intemperate behavior |
| The Devil | Capricorn | Knees, joints. |
| The Tower | Mars | Accidents, injuries by weapons, high blood pressure. |
| The Star | Aquarius | Legs, ankles |
| Moon | Pisces | Feet, issues related with mind health. |
| Sun | Sun | Heart, Stomach, Bones |
| Judgment | Pluto | Toxins, pollution. |
| The World | Saturn | Legs and feet, Lymphatics |
Thanks and love to Tarot.
If you like my article, you can like, comment and share it. Once you subscribe you will get all the notifications on your email id.  If you like my article, you can like, comment and share it. Once you subscribe you will get all the notifications on your email id.