Online Love Tarot Reading
As now we are into digital world, people are becoming smarter and utilizing their time by taking Online Tarot Reading like for love, career etc. People use technology like for instance on google, they search for best Tarot Card Reader to get their online reading like for any topic be for love, marriage life, career, health or other problems etc. Now days we have many apps related to tarot and astrology , but what I believe through clicking on those free tarot readings or apps, you will not able to make any major decisions of your life. It is through face to face  or Online Tarot reading from a professional one, can help the soul to have an insight into each of the possible outcome of any situation you are into and bestest part is that a good Tarot Card Reader will give you guidance also.
Once a girl approached me for online Love Tarot Reading as she was curious to know about her love life. She was searching for online Tarot Card Reader and she approached me for her love reading.
Love Tarot Spread for her Online Tarot Reading
I use one of love Tarot Spread to answer her.
In this, there are total three cards that are pick up by client.
First Tarot Card – What brings you together
Once a couple enters to a relationship commitment, a secure attachment to your partner is the most essential part. In a relationship what bring them together is the way they support each other in every manner alike emotionally, mentally and physically too. The first card that comes here will reveal what are those things which bring lovers together or make both of them attach to each other. There could be several reasons like, can be pure love/mentally/ physically/family reasons etc.
Second Tarot Card – What pulls you apart?
Falling in love is a beautifully experience. What I believe perfect relationship will get tested when many other factors comes to play. At times, some of the stress points can actually change the dynamics between them . Lovers will get tested in many other ways alike their view points on lifestyle, careers, becoming parents etc. Through tarot card reading one can clearly know the reasons of differences between the couple .
Third Tarot Card – What needs your attention
This is the most important point that Tarot Card Reader must emphasise his/her querent to follow. There are few things if lovers follow, it will make their relationship beautiful. Tarot is a mirror it actually shows inside things about everyone  . with the help of cards a tarot card reader helps the querent about where he needs to give attention in his  relationship . A correct guidance through a professional tarot card reader might helps in making the relationship more colorful .
What are the reasons that brings gap between love partners.
When conflict is on higher stage between the couple the relationship can become more stressful and the worst neither of one them is prepared to yield .  The gap between them is because of multiple reasons it could be communication gap, needs compatability,emotional unstability. Here the question arises where does the balance of power lie? Love relationship is very important part of everyone's life but to balance it through correct guidance matters the most .
Online Love Tarot Card Reading Case
Below, I am sharing one of my case study of Love Tarot Reading that i gave online to one of my client. She was curious to know about her love life.
First Card – What brings love partner together – Five of Swords in Love Tarot Reading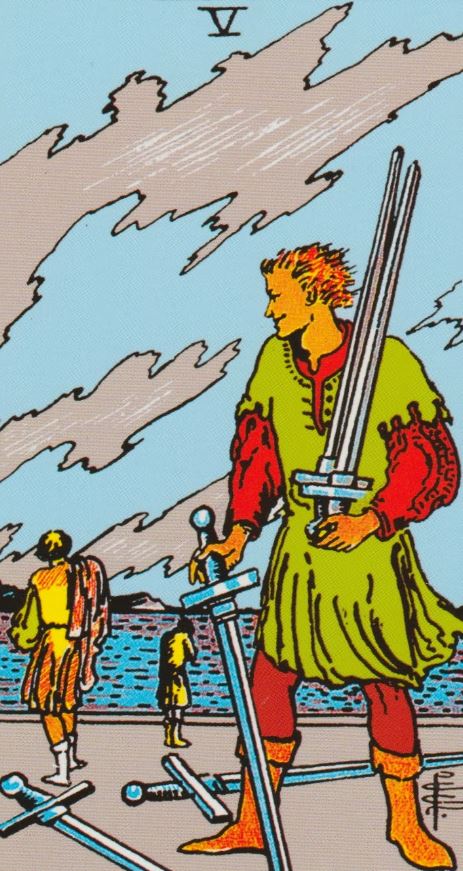 Five of Swords in a love relationship reading is not a good card. Strange card has come in this position that is 5 of Swords in her love tarot reading which was online. This card suggests that they has come in this relationship due to some problem like of some past. Both of them had break up with their love partners. Both of them, were not in relationship like one was not in relationship from last few months before both of them came in relationship.
Boy earlier was like playboy who used to change his girlfriend within 4 months span max. Both of them are dating each other for past few years. He thinks since she is the only girl whom he has dated for such a long time, he should continue that.
His Girl is working under this person in his company, where she is getting fine salary and she was jobless from few months. She feels, if she comes out of this relationship, then she has to search for job again. Girl has huge anger issues and it's her boyfriend who bear her all anger. The guy has started new company and his girlfriend is very experience in that particular job line. His business is not going well, but he has lot of hopes on his girlfriend that she will make his business to better level. There is no pure love between them. Both of them, are in this relationship due to their needs and their ego issues.
Second Card – What pulls love partner apart from each other – Two of Swords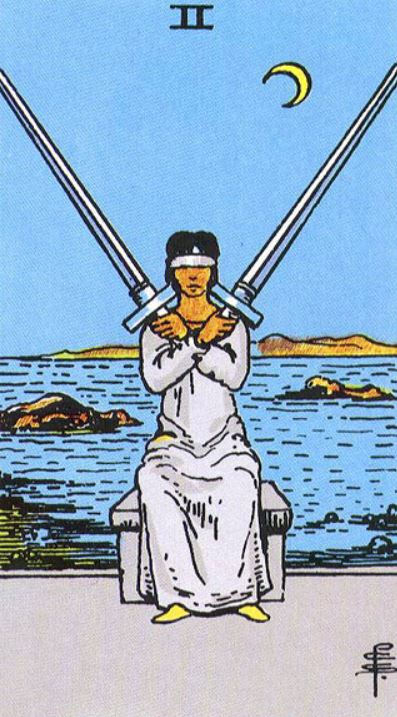 Swords card are not consider good for love relationship point of view. Two of Swords is not considered a good card for love and relationship. It gives clue that when both of them fight, they don't communicate with each other or there is lack of good communication. We can see person is blind folded and lets nothing in and nothing out. I ask her on phone since she was taking online reading for her love relationship that – Both of them may have different religion background plus girl family is not ready for this love marriage. She said yes. Lovers in their mind has doubt whether this relationship will move ahead or not and they get married or not. Plus their family and both of them believes in match making. One of them is Mangalik and one is non mangalik. Plus gun milan they got only 16 points. So they are worried about future if they do marriage, will it survive or not.
Two of Swords card clearly shows defensive attitude.
Third Tarot Card – What needs your attention – Ace of Pentacles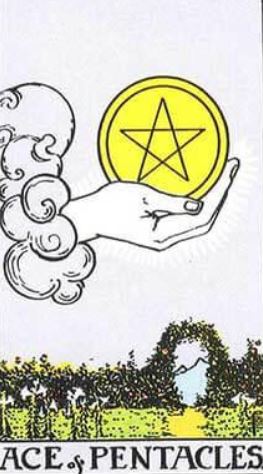 Ace of pentacles in love relationship reading shows that he needs to make focus on money and career. Girl family is financially good as compare to boy family. Plus boy is not earning that well, and it's tough for girl to convenience her parents for this marriage. He has started new work, where he needs to settle down, then may be girl family get agree for this marriage. Plus, he is spendthrift. He needs to learn how to save money.
She was amazed by accuracy of online Tarot Reading for her love relationship reading.
Online future  Love life tarot reading – Yes/No Reading
A girl enquired me online to know about her future marriage chances with particular guy. Her question was related to her future love life. It was like Yes/No Tarot Reading. The Tarot Card that came in her Future Love Tarot Reading – The Empress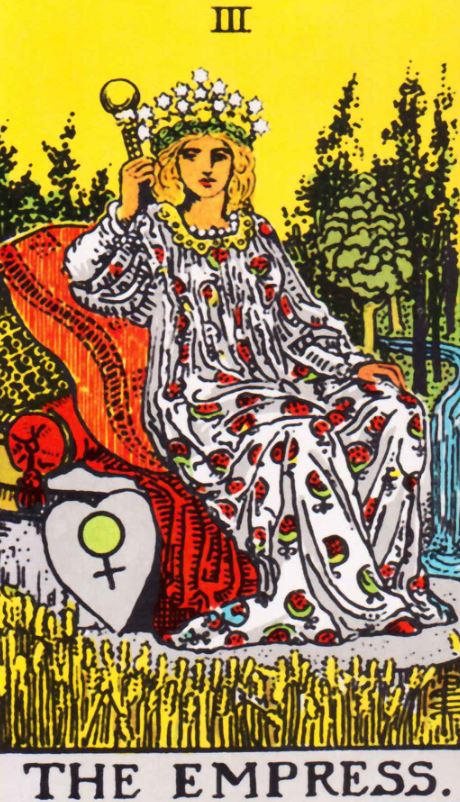 Empress is one of the most positive Tarot Card and i answered her yes – that you will get married to him in future. After few months, she informed me that both of them got married.
If you want to book your online Tarot Card reading click below –
If you want to read more online Tarot Reading Case, check out links given below:
Tarot Card Reading of Career online – https://tarotschoolofindia.com/three-card-tarot-spread/
Online Tarot Card Reading of Marriage Life –https://tarotschoolofindia.com/love-tarot-spread-marriage-prediction/
Love life Online Tarot Card Reading – https://tarotschoolofindia.com/love-tarot-card-reading-5-card-tarot-spread/
Online Tarot and Astrology prediction related to marriage chances – https://tarotschoolofindia.com/marriage-prediction-by-tarot-and-astrology/
Five Card Tarot Spread for Love – https://tarotschoolofindia.com/5-card-tarot-spread-marriage-relationship-prediction/
Read Marriage Life Prediction by Astrology-
To read more articles on Tarot and Astrology, check blog section – https://tarotschoolofindia.com/blog/