Love Tarot Card Reading – 5 Card Tarot Spread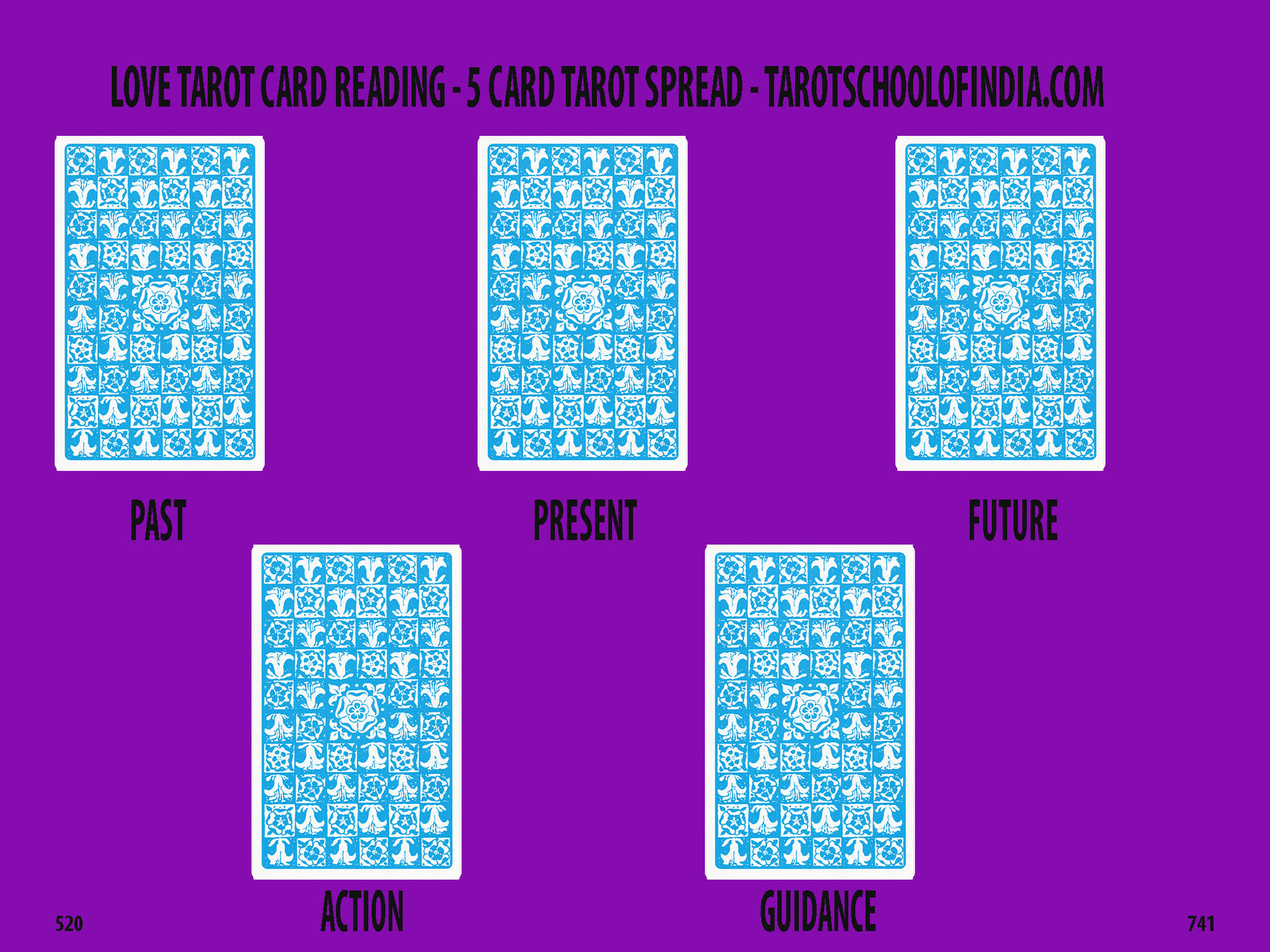 The lady came for Love Relationship Tarot Card Reading and I choose the 5 card Tarot Spread for her Tarot Card Reading. She was curious to know what will happen in the future. She had lot of hope and faith that her partner will bring lot of happiness in her life the same way she do for her partner. This lady is from Brazil and took online Tarot Card Reading from me and took astrology predictions also for relationship. I gave her prediction and after some time, she came back to me with feedback about what happen with her love life.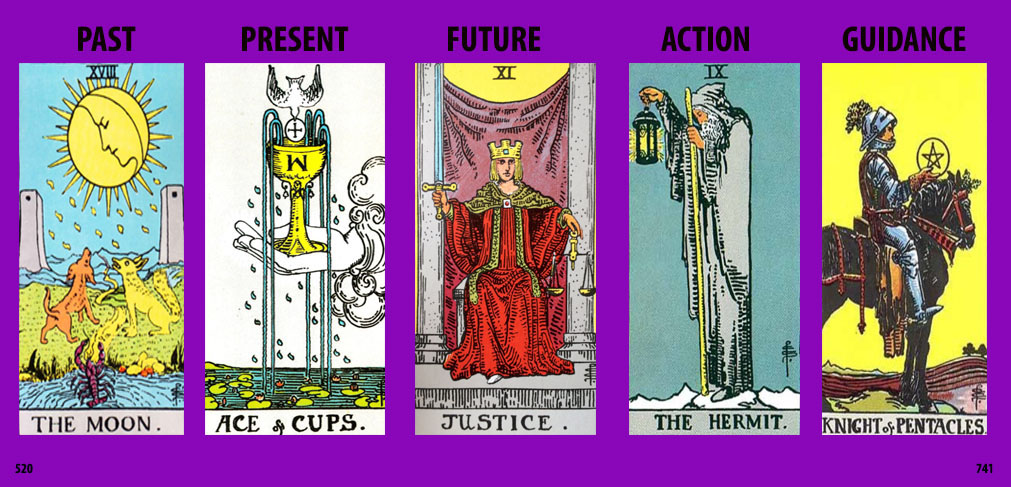 Card 1 The Moon – Past Position in Love Tarot Relationship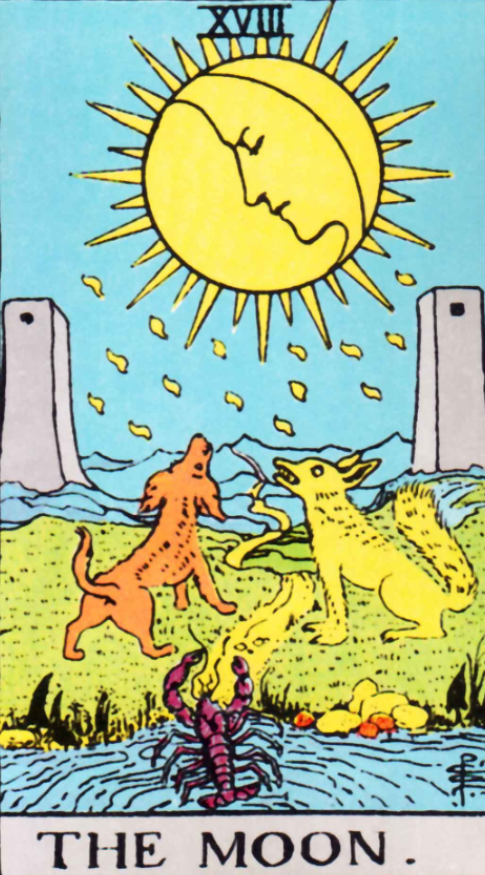 This card is the card of deception. The Moon card in a relationship reading/ If the Moon Cards comes in love relationship Tarot Card Reading it warns there is some hidden danger that one may not be aware of. This card shows the possibility of cheating and betrayal in relationship. It shows the possibility that partner may be playing with your emotions. What you might be anticipating, things may go different in future. It shows fluctuating period in relationship and there is some hidden aspects in terms of relationship and your partner may be hiding something from you or playing some games with you.
In the past card, it shows the possibility of break in relationship. Something might have happened surely and there may be pause in relationship. She might have never thought of, that issues will come and which might end her relationship. She didn't anticipated that he will cheat her, but he did.
Card 2: Ace of Cups – The Present Situation in Love Tarot Relationship Reading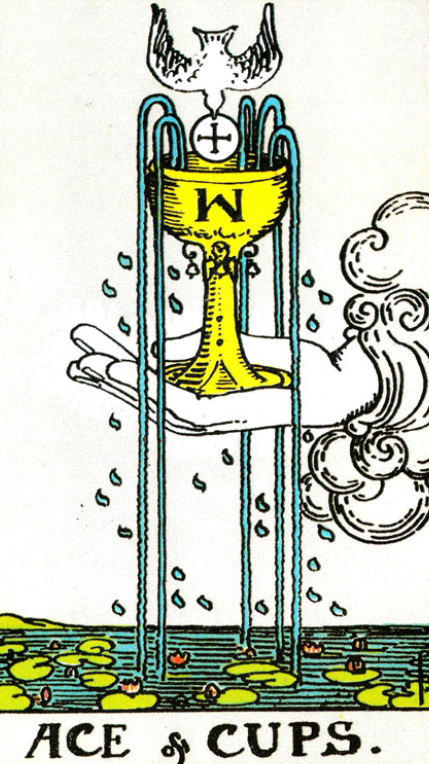 This card shows new beginning in terms of emotional aspect specially. Ace of cups in relationship reading shows the possibility of falling in new relationship or even revival of old relationship. Since this card came in present situation with same guy, which indicates that he has come back again in her life after lot of turmoil's and setbacks. Remember the moon card in the past.
So there is improvement in their current relationship. Ace of cups is a positive card and there is emotional fulfilment during this phase in relationship.
Card 3 :  The Justice Card in Love Tarot Relationship- Future Relationship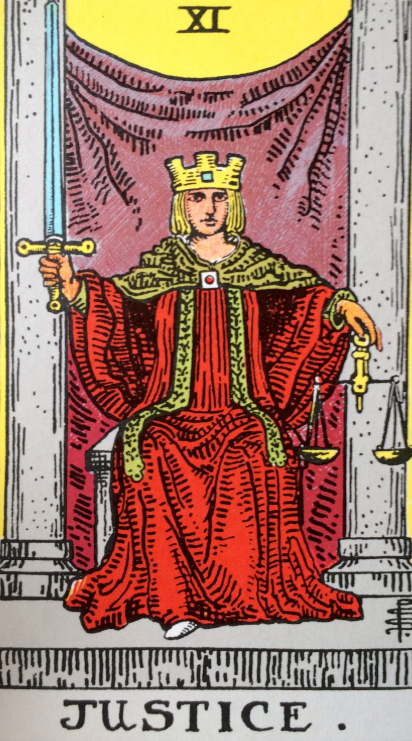 This is the card that deals with law and legal affairs. This card also talks or shows some kind of contract.  Remember justice card in astrology denotes Libra sign and Libra sign is the 7 rashi of kal purush which indicates marriage. This card one needs to make a decision very carefully after ascertaining all options. One need to act carefully. The justice card that seeks fairness and equality. The justice card is one of the karmic cards. But behind justice card, 4 of cups came up.
Since it has come behind, it means it has some message. What it means and what it indicates when we combined with this card let's try and understand.
Card that came behind other card – Four of Cups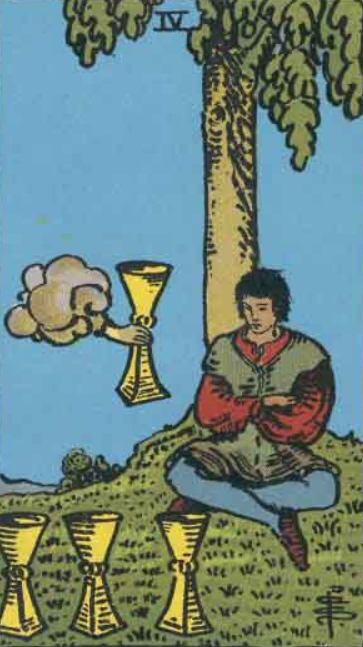 You can see here in this card that person is not happy with opportunities that he/she is being offered. Four of cups in a relationship reading shows the discontent and dissatisfaction in a relationship. This card shows the possibility of withdrawal from relationship as love partner may not be happy with what his/her love partner is doing so one love partner may break up ir may withdraw from relationship.
I warned her and said he may come back but you have to face many issues. Even if he comes back, there will be issue. You may seek commitments from him like want to marry with him, but things may not work accordingly and there could be relationship issue again.
She want to marry him, but he denied. Later on, he went and started dating other girl.
Card Four: The Hermit – Action Position in Love Tarot Relationship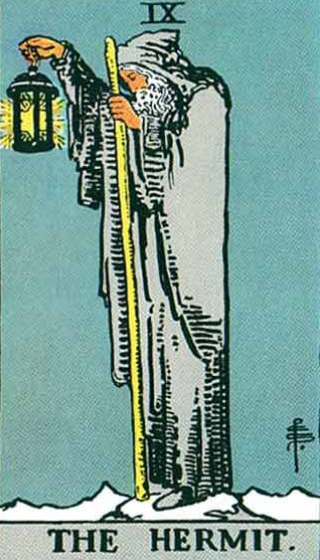 The hermit card in a relationship is the card of isolation and loneliness. This card has dull colors. In this card, we can see an old man who is separated from society. The hermit cards represents Virgo Sign. It is asking to take break from this relationship and this relationship may give problem in relationship and may not give the contentment/enjoy in relationship. Remember Virgo is the sign where Venus gets debilitated. Venus is the signification of marriage and luxuries which shows there could be some gap between both of them in future. This gap could be emotionally/mentally/physically. There may be difference in nature or opinion of partner from love partner.
Card 5 Knight of Pentacles – Guidance in Love Tarot Relationship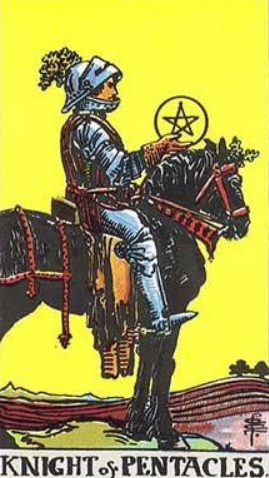 Knight of pentacles is one of the most serious card among knights card. This card warns that person needs to be serious before he moves ahead. One need to act with maturity and be practical. Need to be realistic.
Outcome and Story
I told her in advance that this guy will cheat you up and he is not a reliable person. I was able to trace out that he will  cheat up when she will ask for deeper commitment and he did same when she ask him to marry her. He left her and came in relationship with other girl. She made wrong decision unfortunately and now she is regretting.
If you want to see analysis from Astrology for above Lady Love Life Prediction and see what are promises in her birth and how things changed as per planetary period dasha. Click link below:
If you like my articles don't forget to subscribe, share, like and comment.
For more updates press the like button for my page Tarot School Of India – https://www.facebook.com/tarotschoolofindia/
https://www.instagram.com/vineetsakhuja65
Read other Marriage, Love Life Articles by Astrology and Tarot:
Read promise in birth chart and marriage life with dasha, click this link – https://tarotschoolofindia.com/marriage-love-life-prediction-by-astrology/
A lady was dating a guy and she broke up with him several times but again came back in relationship with him, click this link to know whether they got married or not and why she use to forgive her boyfriend every time. Click this link – https://tarotschoolofindia.com/marriage-life-prediction-by-astrology/
See Marriage life prediction by Tarot, where that lady who is married, was looking to get support from her husband, but she didn't got it. What she did later to overcome that problem, click this link – https://tarotschoolofindia.com/love-tarot-spread-marriage-prediction/
If you like my articles don't forget to subscribe, share, like and comment.
For more updates press the like button for my page Tarot School Of India – https://www.facebook.com/tarotschoolofindia/
How to Read Tarot Cards –
Love Relationship Reading
5 Card Tarot Spread –
Three Card Tarot Spread – https://tarotschoolofindia.com/three-card-tarot-spread/
Check how to read Celtic Cross Tarot Spread in easy way- https://tarotschoolofindia.com/celtic-cross-tarot-spread/
Know how to read Personality by Tarot Spread – https://tarotschoolofindia.com/personality-tarot-spread/
Prediction by Tarot and Astrology – https://tarotschoolofindia.com/marriage-prediction-by-tarot-and-astrology/
For all my Tarot and Astrology articles you can check my blog – https://tarotschoolofindia.com/blog/
PICK A CARD FOR 2020 FIRST THREE MONTHS
For all my articles Tarot and Astrology articles, check my blog section- https://tarotschoolofindia.com/blog/