Top 10 Positive Tarot Cards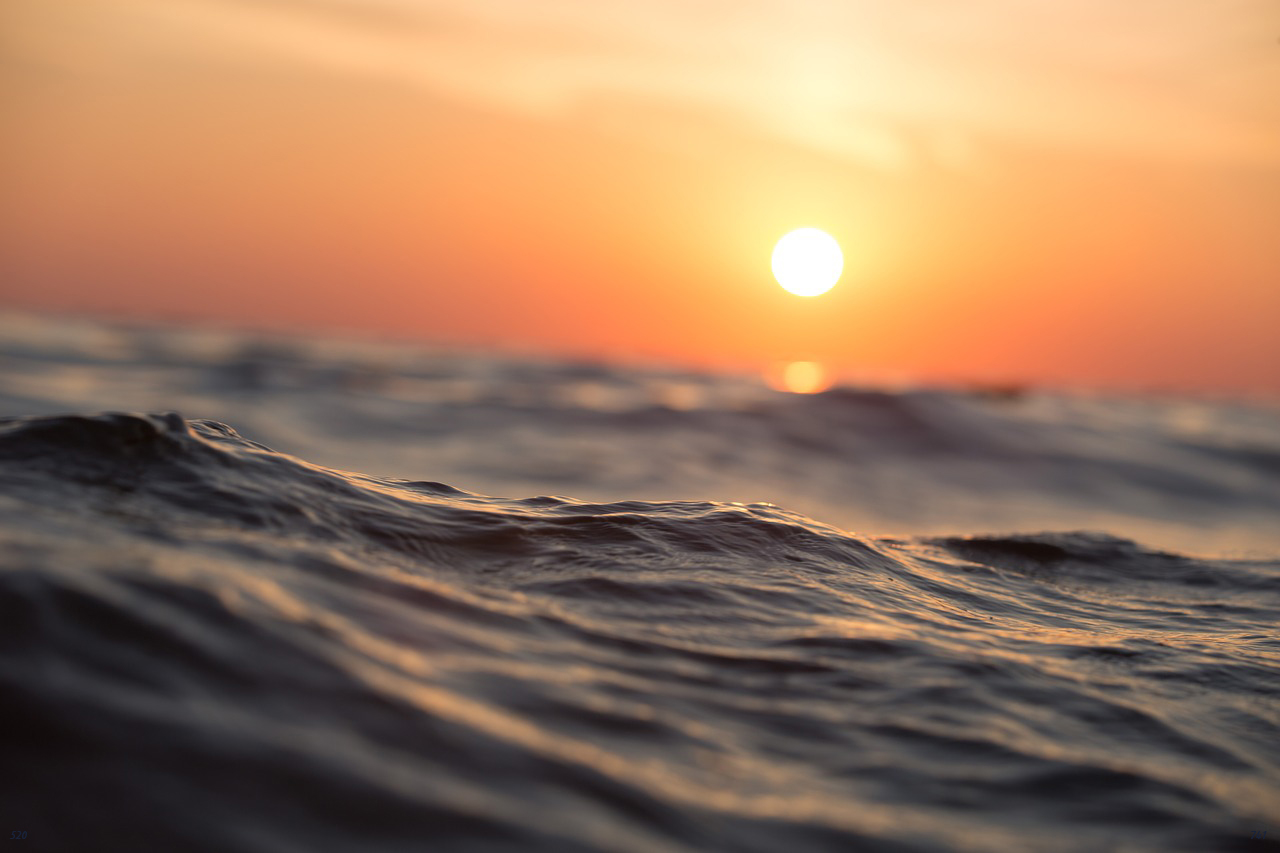 Tarot is meant for guidance and to help people and bring happiness in life and a better approach towards life. In today's life, there are many problems due to more of negative thinking or negative approach and not being contented with how things are going on. People wait and look for a bigger occasion for happiness and forget to live and enjoy even the tiny moments of life. What we need is a positive outlook. A positive thinking and outlook changes a lot of things.
1) THE SUN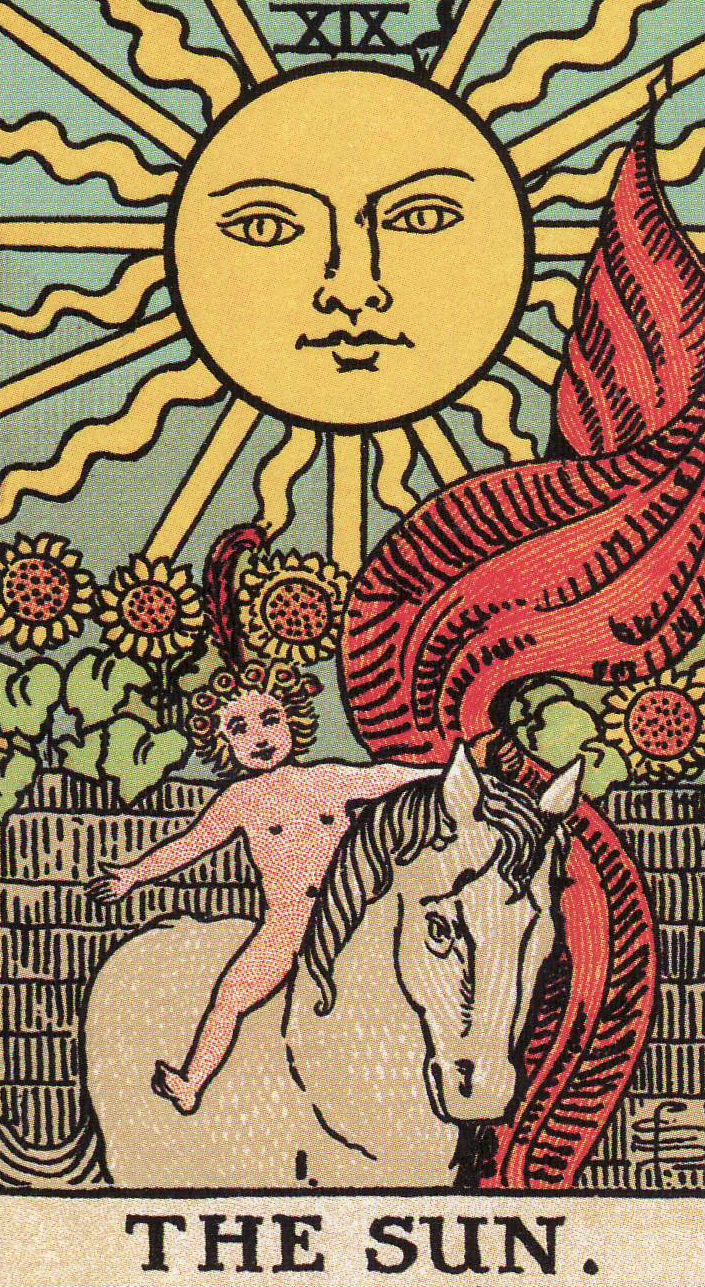 This is one of the most positive cards. Sun in general is the source of energy. Sun is the heart of our solar system.
Remember, Sun is the provider and maintainer of life.
In today's life, what we need is to cheer up, have enjoyment and make sure that life should be free of tension/stress. The sun is one of the most optimistic tarot cards. This card reminds to be cheerful always and carry confidence in yourself.
For example Always be happy and live the moments like anything like in one of the Bollywood Hit film Anand, Rajesh Khanana(actor) was always happy even though he was suffering from disease and about to die at a young age in movie.
In film bahubali –At time of war it seeme that bahubali is going to loose and his soldiers were running back being afraid of death, he explained beautifully what is death – a fear to loose. He rose like Sun and enlighten his army and his praja.
Learn to live and enjoy every moment that you come across. This card has a beautiful meaning.
2) FOUR OF WANDS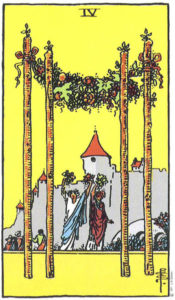 This is a highly energetic card where we can see a garland on the top of 4 sticks(wands) and we can see people celebrating also. We can clearly sense the situation reflected in the card – Four of Wands here.
One always wants happiness to knock at their doors. This is one of the cards that show harmony and celebration. We can see happy and secured home here.
3) TEN OF PENTACLES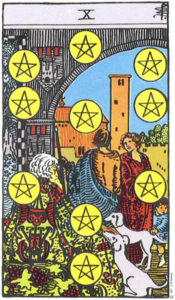 What we all need in life is – Money, a Good relationship and good family ties. This card has all what one needs. Ten is a completion card and this card shows material abundance and family support also. This card shows stability in married life also. This card indicates inheritance also.
4) TEN OF CUPS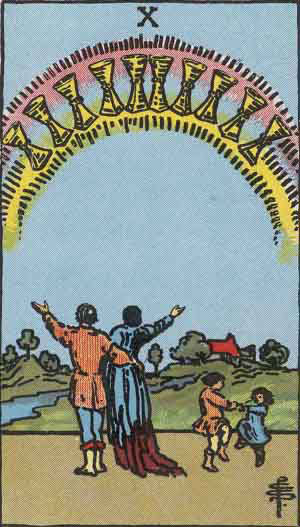 This card shows long lasting happiness. There is good rapport between you and your family/people around you.  This card is a good card for partnership and shows fulfillment of desires. This is the card of contentment. What you have desired, you achieved it.
5) Ace of Cups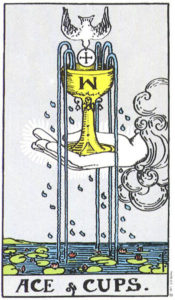 This is a good card which shows emotional fulfillment. What we need is support/help from people around us. Someone may come in any form to help you. This card shows opportunities are coming in your life may be on its own. You may receive any kind of gift from someone.
6) WHEEL OF FORTUNE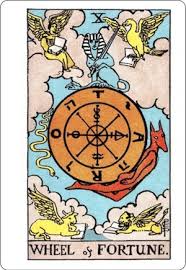 This is the card of fortune. One always wants fortune/luck in his/her life in every field. This card indicates positive changes coming in your life. Circumstances are improving. You may be getting help or a lucky break. If this card comes in reading for future career/finances/relationship, it means all things will get better and you may get lucky break in career/luck favoring you in your career, you may get better opportunities to improve finances and in relationship, you may get a good partner if you unmarried.
7) THE STAR CARD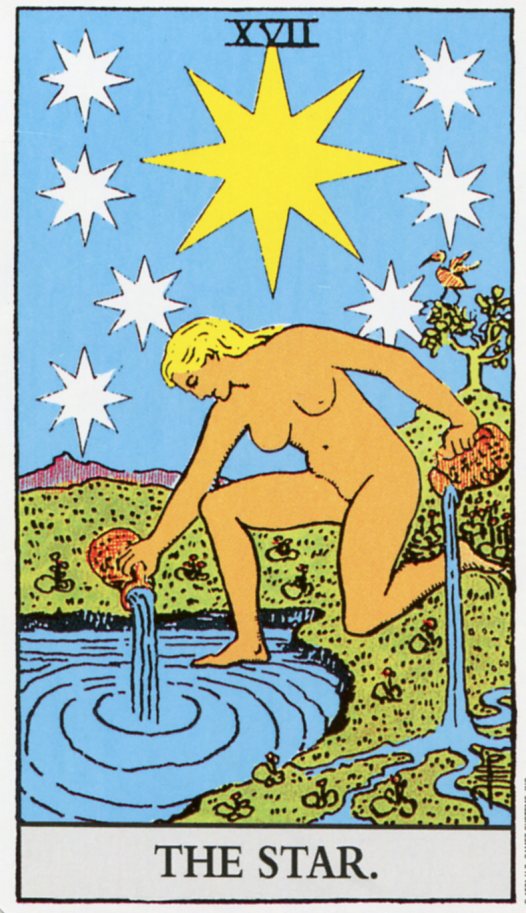 This is the card that indicates abundant future if comes in a future reading. This card shows growth and here we can see person is enjoying doing multiple things at same time and is also doing it perfectly.
8) Three of Cups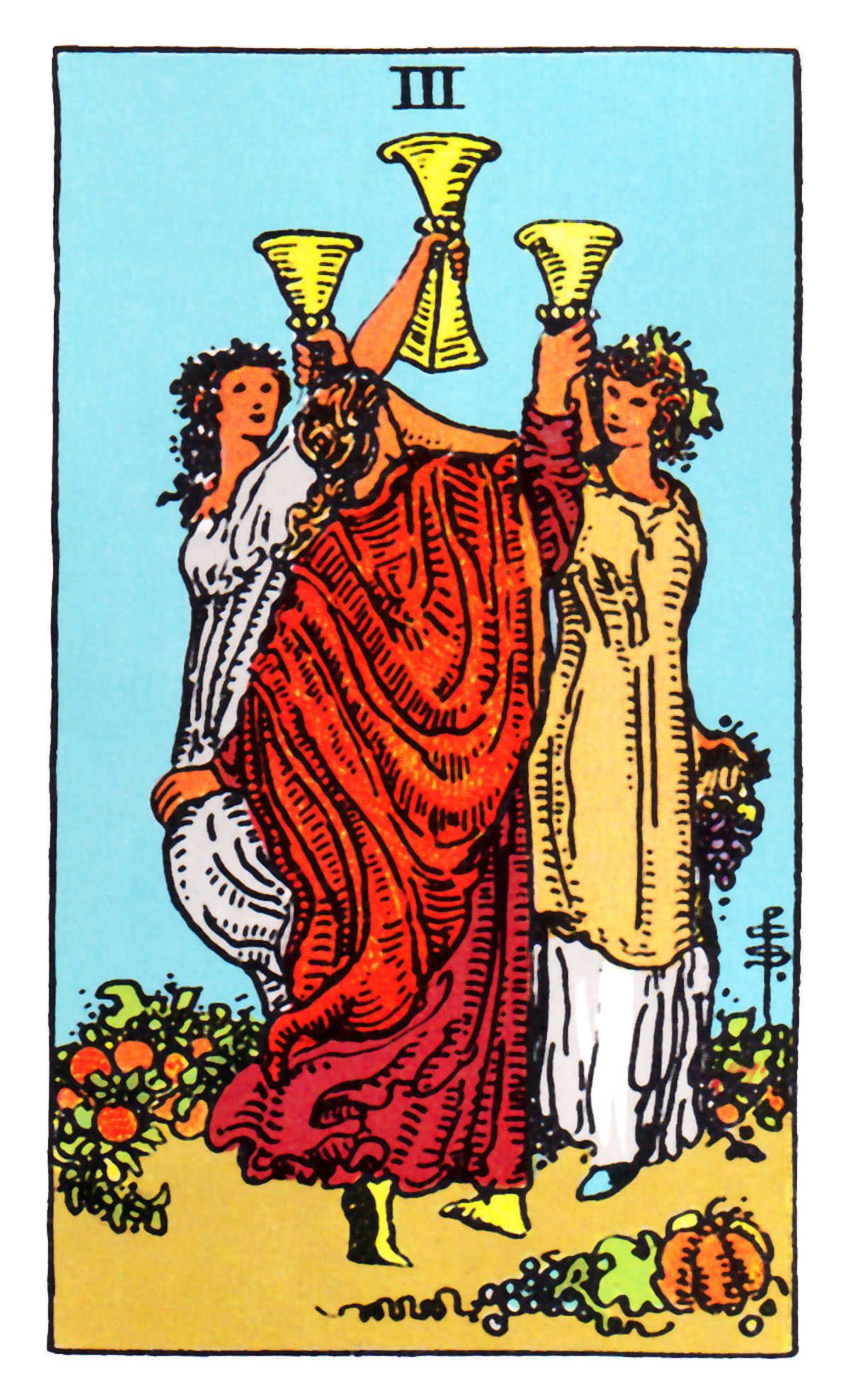 This is the card of celebration where you are celebrating with others.
What a beautiful meaning this card gives – Happiness multiplies when you share it with others. This is the card of achievement.  Sharing is the message by given this card.
9) THE WORLD CARD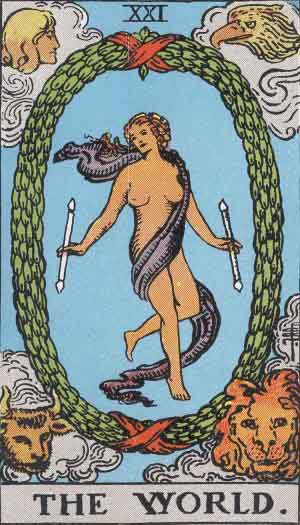 This is the last card of major arcana and this card indicates you completing your goals/targets. This is the card of accomplishment and completion.
This card shows lasting success and lot of happiness. You might get world-wide success like if you.
10) THE LOVERS CARD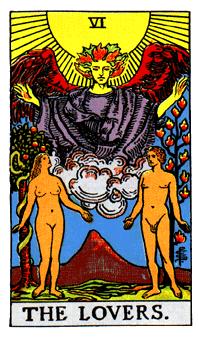 What can be better than being blessed by God himself and what one else needs then. Here, we can see angle blessings are there on both the love partners.
Best Tarot Card Reader – Vineet Sakhuja got awarded by Bipasha Basu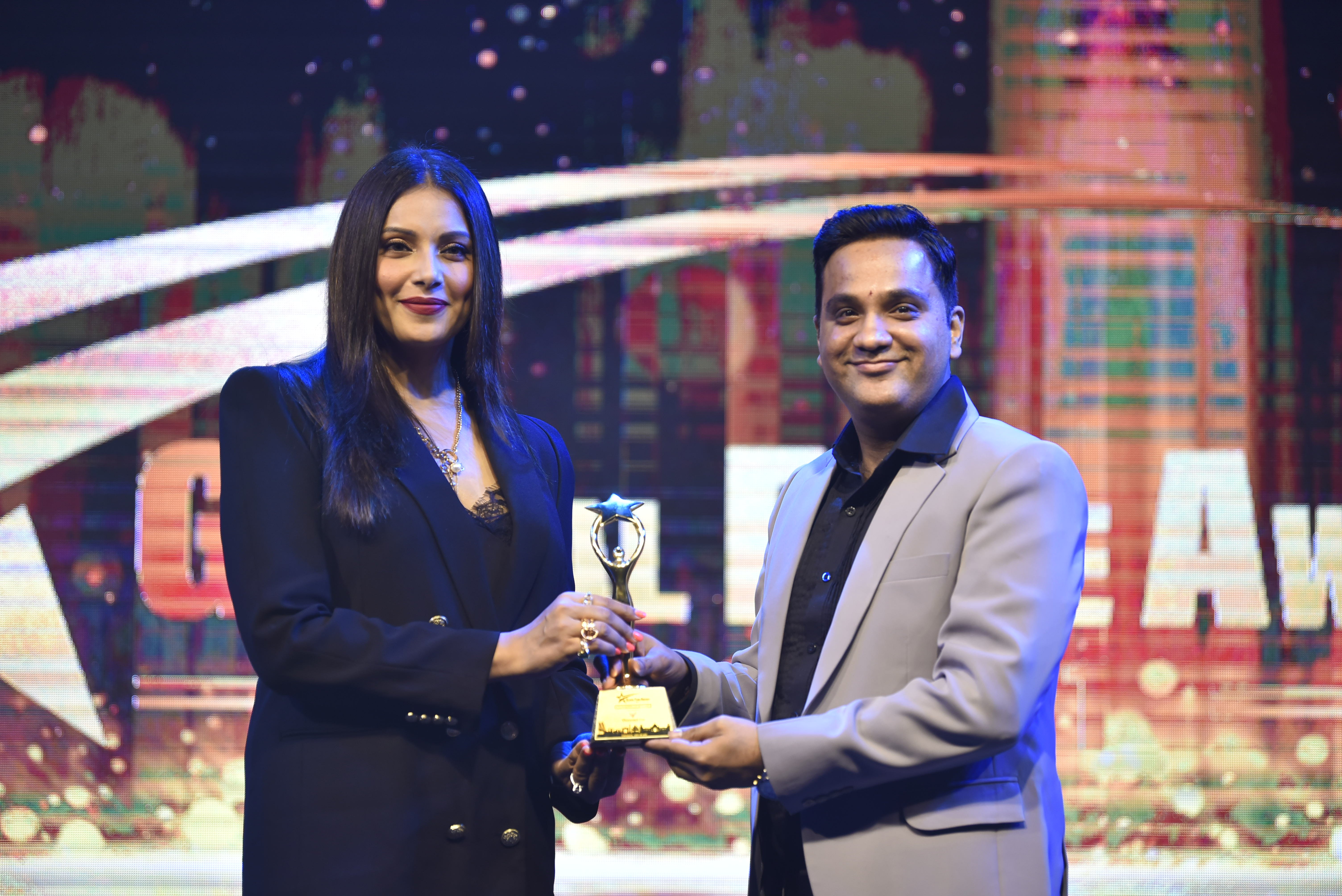 Vineet Sakhuja awarded Best Tarot Card Reader in Delhi by Mandira Bedi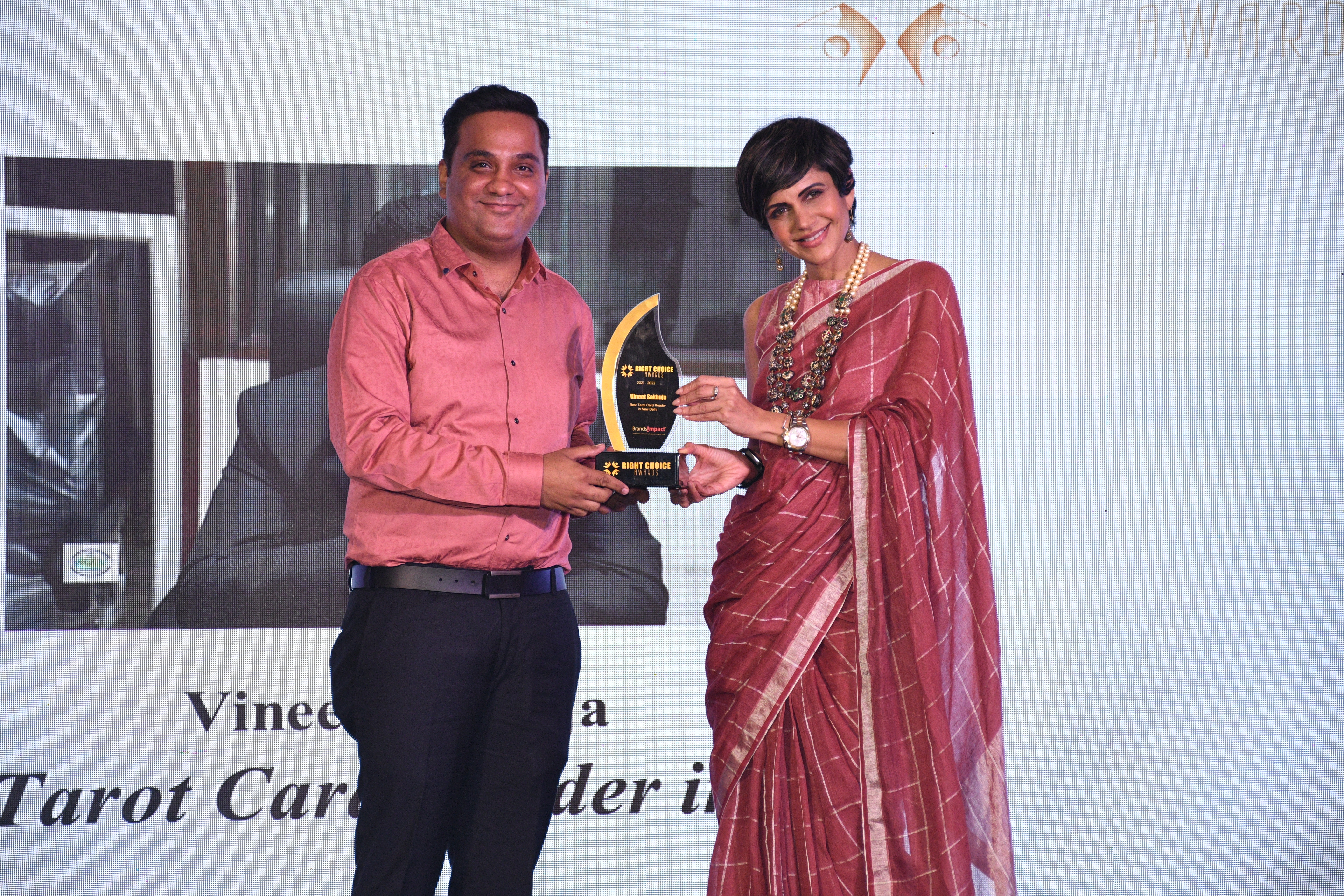 Check out my Articles by Tarot and Astrology: 
How to Read Tarot Cards easily –
Best Love Tarot Spread –
Love Relationship Reading – 
5 Card Tarot Spread –
Check how to read Celtic Cross Tarot Spread in easy way- 
Marriage Chances Prediction by Tarot and Astrology –
Three Card Tarot Spread –
SUBSCRIBE
If you like my articles don't forget to subscribe, share, like and comment.
For more updates press the like button for my page Tarot School Of India – https://www.facebook.com/tarotschoolofindia/
Future Love Tarot Spread – 
For all my Tarot and Astrology articles you can check my blog – https://tarotschoolofindia.com/blog/

For more update, remedies, Astro tips, Tarot Tips, Vaastu tips. Follow us on Instagram – vineetsakhuja65
Book your Tarot & Astrology Reading for Love/Marriage Relationship, Career, Heath etc: 
Learn Tarot Cards from Tarot School of India