TOP 10 TAROT TEN CARDS FOR CAREER/PROFESSION
These days there is a big debate going on in India. There is a huge difference between what government had promised and what the real situation is. The Opposition is trying to bring down ruling party by saying that it was totally a fake promise.
BY TAROT CARD READER VINEET SAKHUJA (9711112410)
Job opportunities are much less created than what was expected.
After putting consistent efforts in studies, one looks for new job opportunities. A big amount is incurred for studies. Parents are also worried till their child gets settled in their career. At times, one might be confused that he or she should persuade job in which company. Not only these but many more things can be answered by Tarot like If one is looking for promotion, better job, new job, good business ahead etc.
In developing countries, job issues like lack of job creation are very much prevalent.
Shashi Kappor in film Deewar
"Yeh duniya ek third class ka dibba ban gayi hai, jagah bahut kam hai, musafir zyada"
In that film – Shashi Kapoor inspector Ravi Verma before getting a job, was struggling to get job.
He meant that for same kind of job, there are so many companies.
Jobs creations are very less, but there are many job seekers.
There are top 10 cards that I am sharing below which are quite lucky if the following question are asked –
Will I get a job in this company?
How will be my job in future?
Will I get promoted?
How will be my business in future?
Will I be successful ahead?
If you are looking for the above questions and if these cards appear, then it might be heaven-sent opportunity for you.
Here are Top 10 Tarot Cards for Career/Profession mentioned below:
1) THE EMPEROR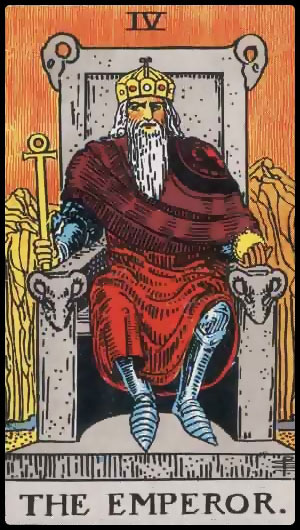 This is a prosperous card if it's come for future. It shows that you get authority and some strong position in your work profile. You are likely to follow rules and regulations that you have selected. You would be in a commanding position.
2) THE STAR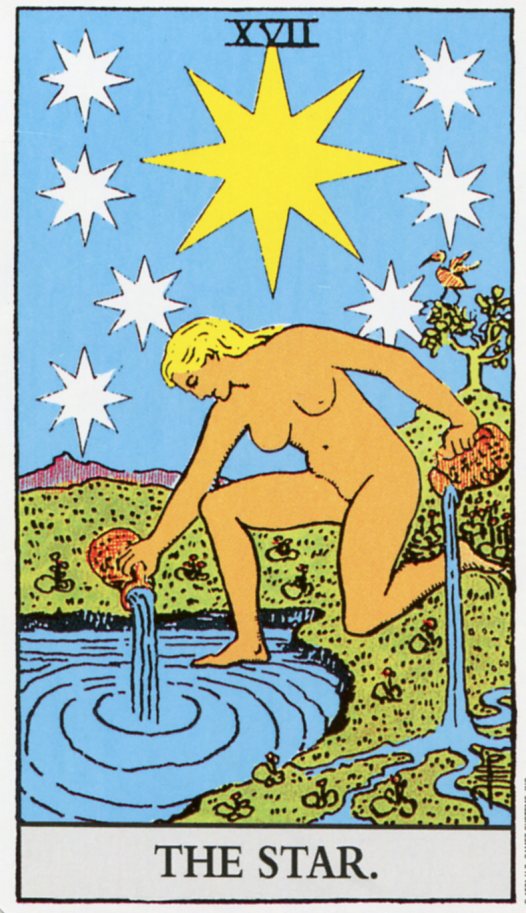 This is a brilliant card which shows success and you might raise to a greater position and also become famous. You are likely to attract acclaims and get recognition for your work. You may achieve success abroad also. You might be a multi-tasker.
3) THE MAGICIAN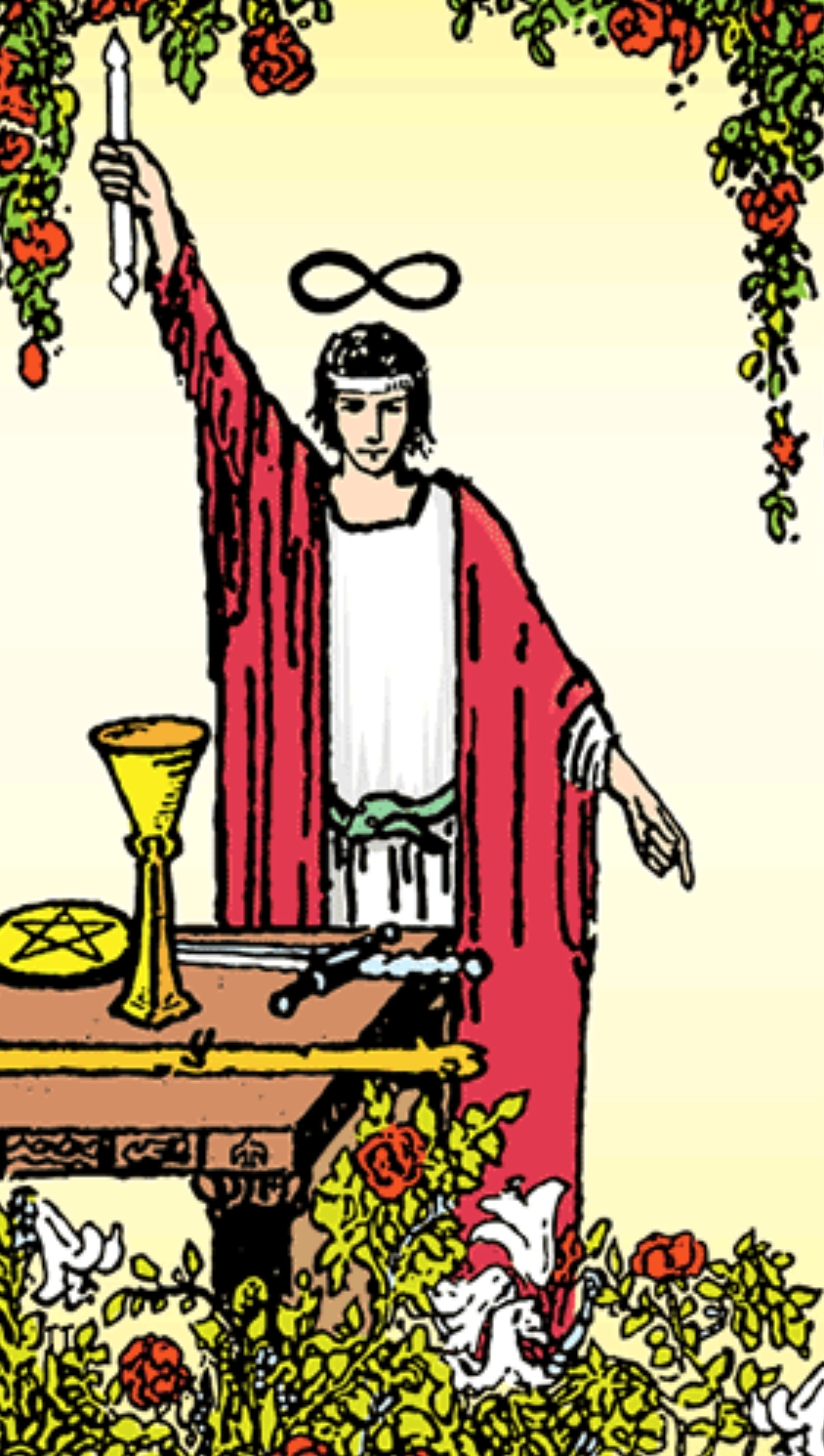 This is a favorable card for job and business especially. Here the person becomes the master and gets awared of all resources. He is able to make optimum utilization of resources.  The person  can manipulate things well and has the skill to handle all aspects.
4) TEN OF PENTACLES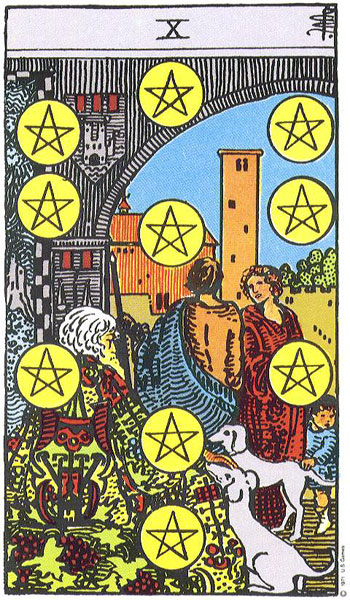 This is a card of abundance. It shows success, name and fame. There is a Possibility of increase in salary or financial gain. You may receive rewards that are owed to you.
5) WHEEL OF FORTUNE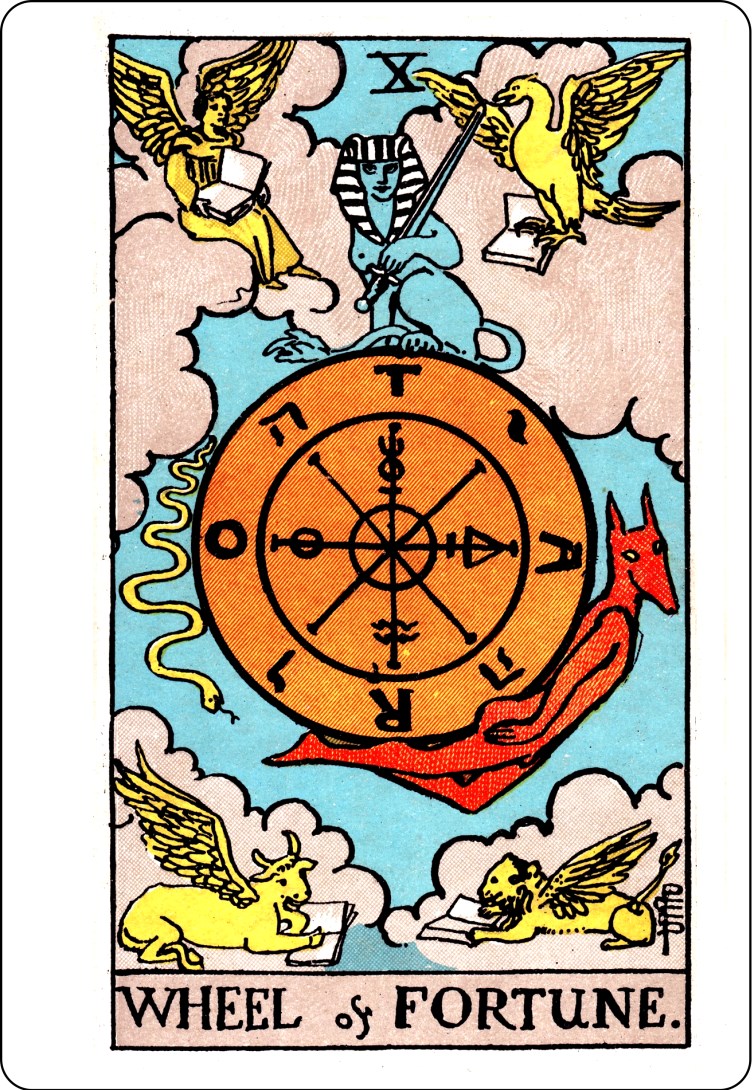 This card might give you a break when you are looking for career. It's like a lucky time period. You are likely to get a lucky break if seeking  a job or you may get a  job in some good and big company. Opportunities are coming your way. Grab it.
6) THE EMPRESS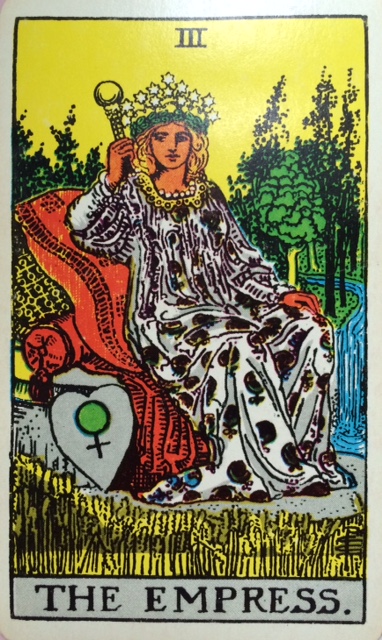 This is card that shows prosperity, abundance and creativity This card shows good time period ahead and triumph. Very high possibility of abundance is there and you might be offered a new position also.
7) SIX OF WANDS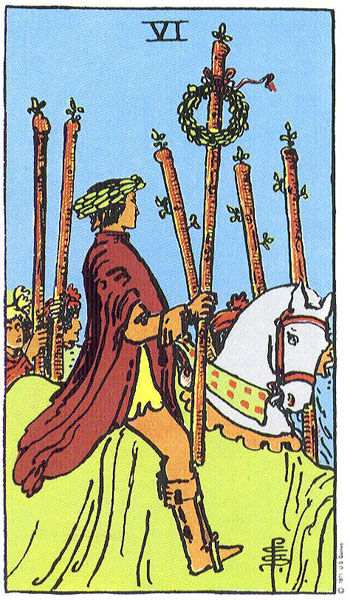 This is a card of victory and triumph. You are likely to achieve the target or task assigned to you. You may get some reward or public recognition like best employee of the year. You may become leader of the team or project.
8) ACE OF PENTACLES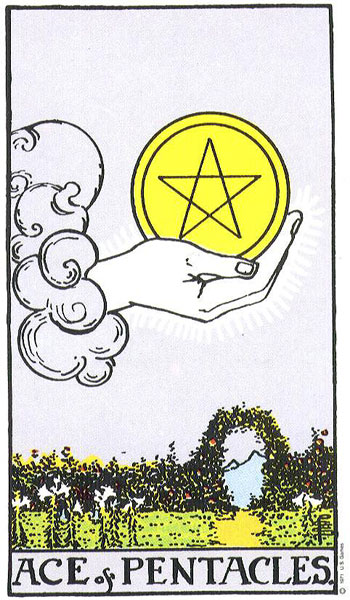 If you are seeking a job, and this card appears, it shows you are likely to get a job soon. The opportunity that is coming your way is a promising one. Just make sure you nurture it well. This card shows starting of new venture.
9) THE WORLD CARD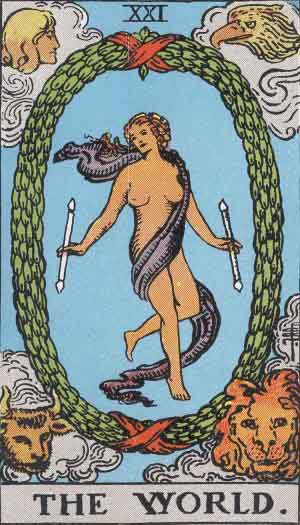 This card signifies completion like some of your projects gets completed successfully. This is a card of achievement. Your goals/targets that you have set for yourself all are likely to get fulfilled. It shows success abroad also.
10) NINE OF CUPS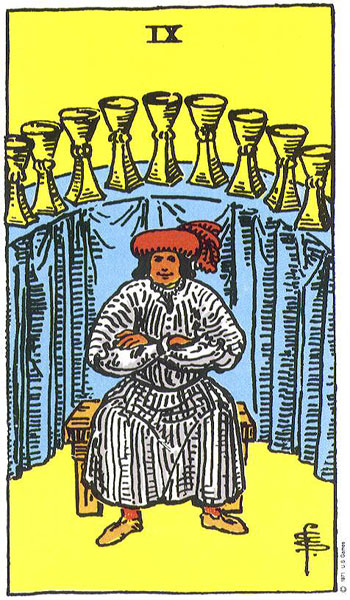 This is known as the wish card and prosperous if it occurs. If you are seeking a desired job/promotion, you are likely to get that.
If you are looking for doing partnership or cards that may indicate partnership are 3 of pentacles, 2 of cups and 6 of cups are good cards.
If you like my articles don't forget to subscribe, share, like and comment.
For more updates press the like button for my page Tarot School Of India – https://www.facebook.com/tarotschoolofindia/
Check out my Articles
How to Read Tarot Cards –
Best Love Tarot Spread –
Love Relationship Reading – https://tarotschoolofindia.com/love-tarot-card-reading-5-card-tarot-spread/
5 Card Tarot Spread –
Three Card Tarot Spread – https://tarotschoolofindia.com/three-card-tarot-spread/
Check how to read Celtic Cross Tarot Spread in easy way- https://tarotschoolofindia.com/celtic-cross-tarot-spread/
Know how to read Personality by Tarot Spread – https://tarotschoolofindia.com/personality-tarot-spread/
Prediction by Tarot and Astrology – https://tarotschoolofindia.com/marriage-prediction-by-tarot-and-astrology/
If you like my articles don't forget to subscribe, share, like and comment.
For more updates press the like button for my page Tarot School Of India – https://www.facebook.com/tarotschoolofindia/
For all my Tarot and Astrology articles you can check my blog – https://tarotschoolofindia.com/blog/
For all my articles Tarot and Astrology articles, check my blog section- https://tarotschoolofindia.com/blog/
For more update, remedies, Astro tips, Tarot Tips, Vaastu tips. Follow us on Instagram – vineetsakhuja65
Book your Tarot & Astrology Reading for Love/Marriage Relationship, Career, Heath etc: 
Learn Tarot Cards from Tarot School of India