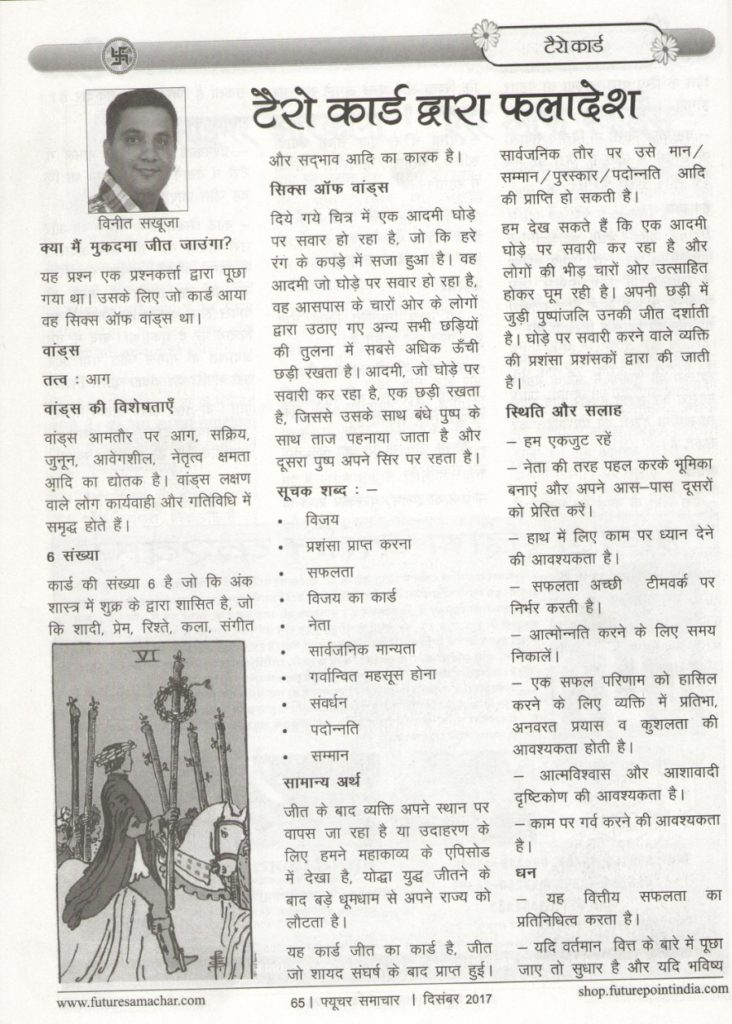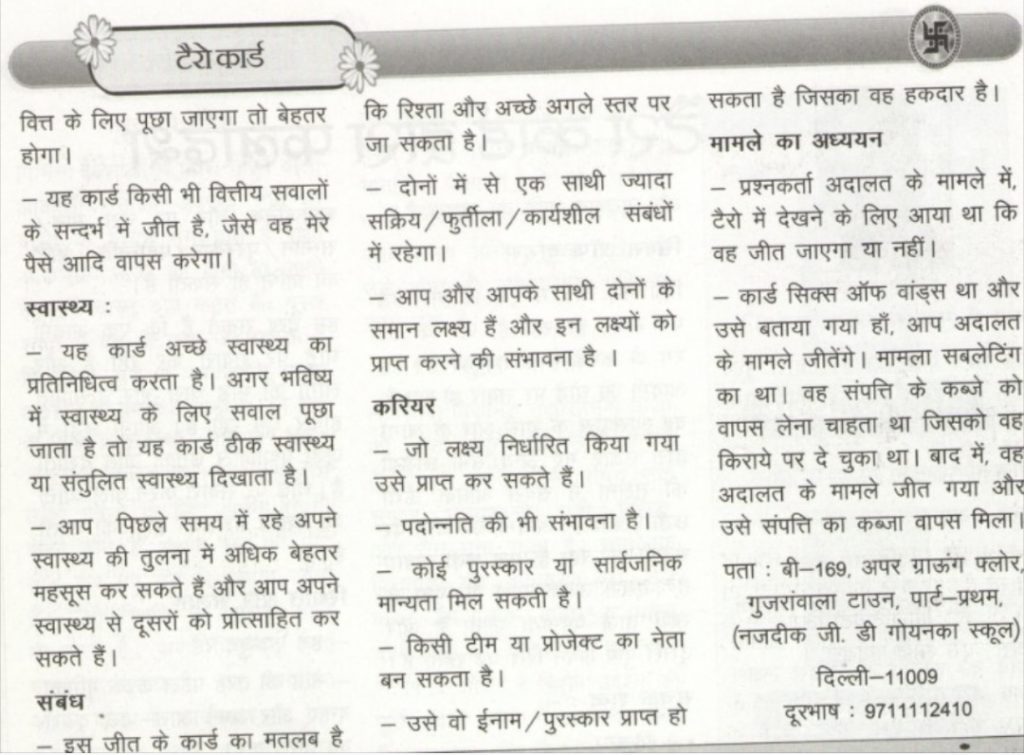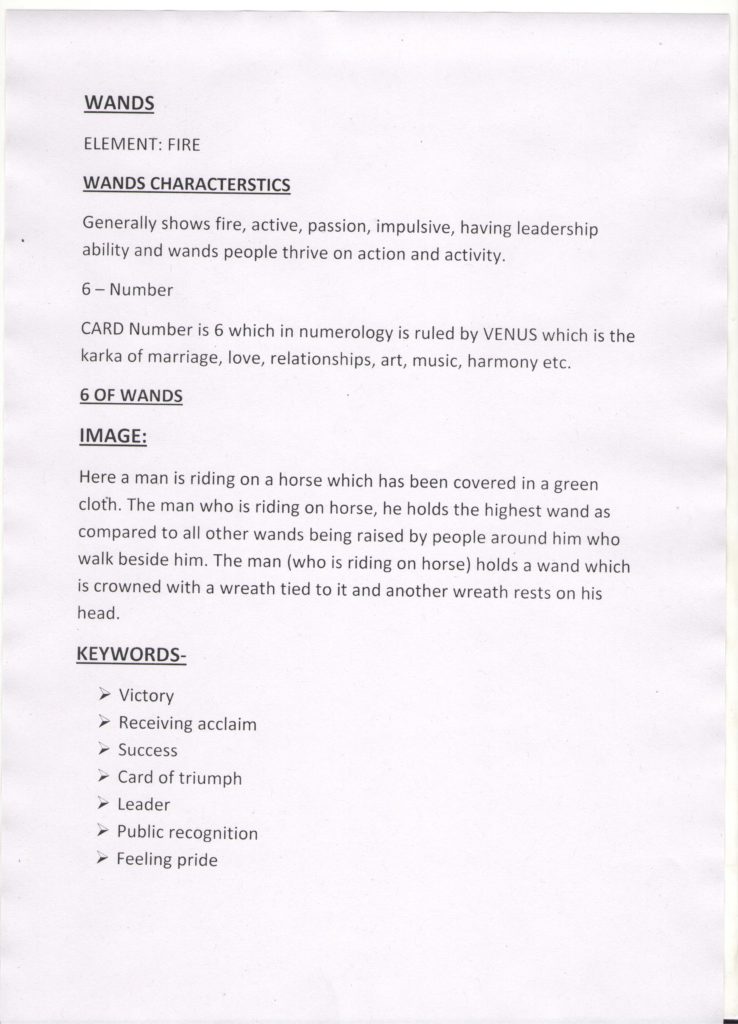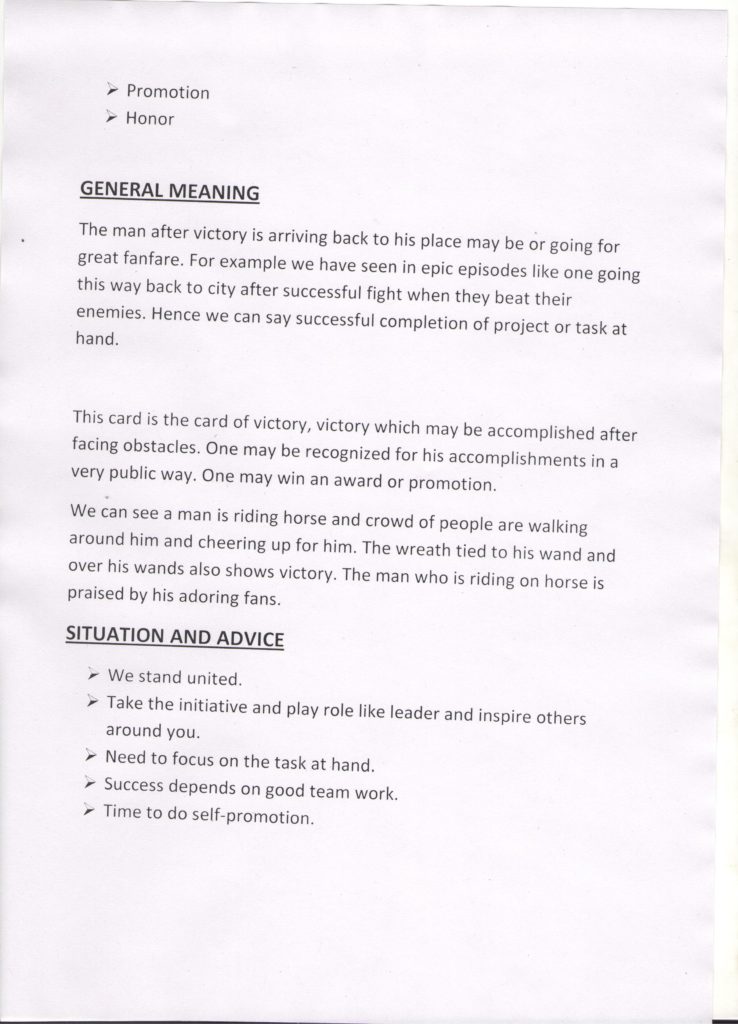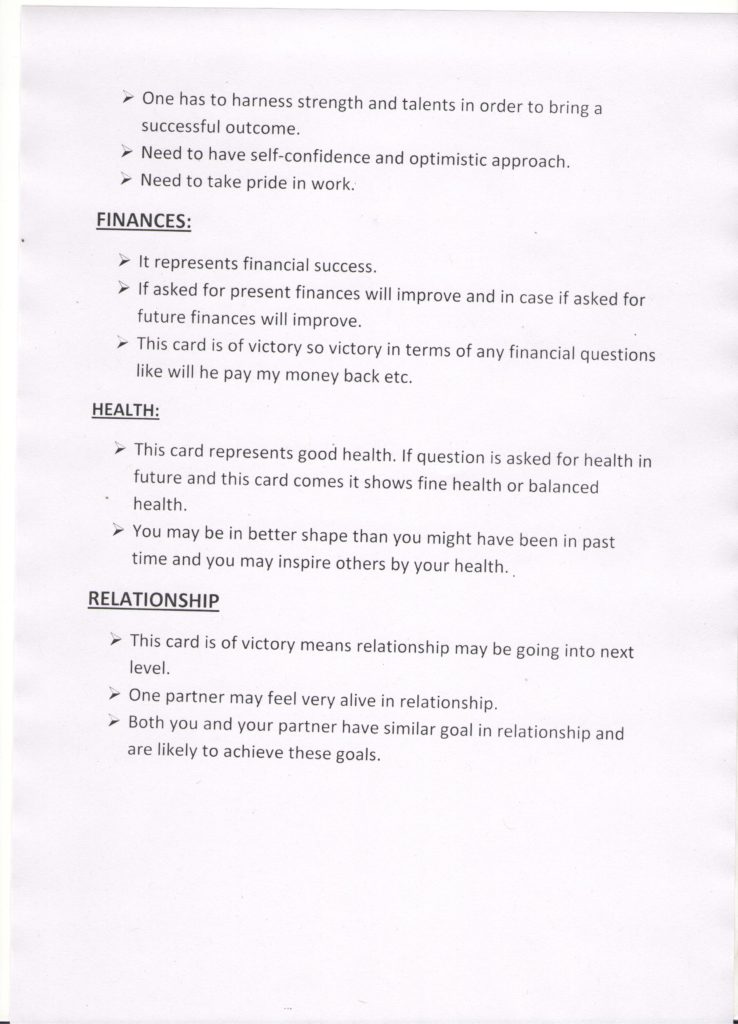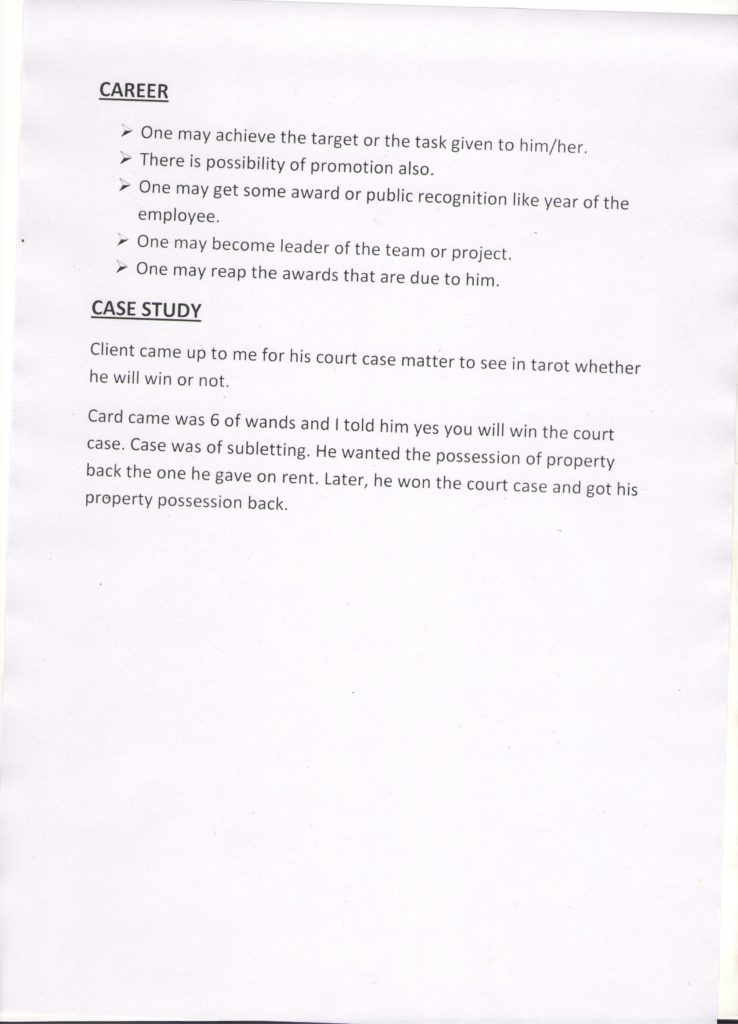 BY TAROT CARD READER AND ACHARYA VINEET SAKHUJA (9711112410)
This question was asked by one of my clients. Card that came out for him was 6 of wands.
WANDS
ELEMENT: FIRE
WANDS CHARACTERSTICS
Generally shows fire, active, passion, impulsive, having leadership ability and wands people thrive on action and activity.
6 – Number
CARD Number is 6 which in numerology is ruled by VENUS which is the karka of marriage, love, relationships, art, music, harmony etc.
6 OF WANDS
IMAGE:
Here a man is riding on a horse which has been covered in a green cloth. The man who is riding on horse, he holds the highest wand as compared to all other wands being raised by people around him who walk beside him. The man (who is riding on horse) holds a wand which is crowned with a wreath tied to it and another wreath rests on his head.
KEYWORDS-
Victory

Receiving acclaim

Success

Card of triumph

Leader

Public recognition

Feeling pride

Promotion

Honor
GENERAL MEANING
The man after victory is arriving back to his place may be or going for great fanfare. For example we have seen in epic episodes like one going this way back to city after successful fight when they beat their enemies. Hence we can say successful completion of project or task at hand.
This card is the card of victory, victory which may be accomplished after facing obstacles. One may be recognized for his accomplishments in a very public way. One may win an award or promotion.
We can see a man is riding horse and crowd of people are walking around him and cheering up for him. The wreath tied to his wand and over his wands also shows victory. The man who is riding on horse is praised by his adoring fans.
SITUATION AND ADVICE
We stand united.

Take the initiative and play role like leader and inspire others around you.

Need to focus on the task at hand.

Success depends on good team work.

Time to do self-promotion.

One has to harness strength and talents in order to bring a successful outcome.

Need to have self-confidence and optimistic approach.

Need to take pride in work.
FINANCES:
It represents financial success.

If asked for present finances will improve and in case if asked for future finances will improve.

This card is of victory so victory in terms of any financial questions like will he pay my money back etc.
HEALTH:
This card represents good health. If question is asked for health in future and this card comes it shows fine health or balanced health.

You may be in better shape than you might have been in past time and you may inspire others by your health.
RELATIONSHIP
This card is of victory means relationship may be going into next level.

One partner may feel very alive in relationship.

Both you and your partner have similar goal in relationship and are likely to achieve these goals.
CAREER
One may achieve the target or the task given to him/her.

There is possibility of promotion also.

One may get some award or public recognition like year of the employee.

One may become leader of the team or project.

One may reap the awards that are due to him.
CASE STUDY
Client came up to me for his court case matter to see in tarot whether he will win or not.
Card came was 6 of wands and I told him yes you will win the court case. Case was of subletting. He wanted the possession of property back the one he gave on rent. Later, he won the court case and got his property possession back.
If you like my article, you can like, comment and share it. Once you subscribe you will get all the notifications on your email id.
Check out my Articles
How to Read Tarot Cards – https://tarotschoolofindia.com/how-to-read-tarot-cards/
Best Love Tarot Spread –
Love Relationship Reading – https://tarotschoolofindia.com/love-tarot-card-reading-5-card-tarot-spread/
5 Card Tarot Spread –
Three Card Tarot Spread – https://tarotschoolofindia.com/three-card-tarot-spread/
Check how to read Celtic Cross Tarot Spread in easy way- https://tarotschoolofindia.com/celtic-cross-tarot-spread/
Know how to read Personality by Tarot Spread – https://tarotschoolofindia.com/personality-tarot-spread/
Prediction by Tarot and Astrology – https://tarotschoolofindia.com/marriage-prediction-by-tarot-and-astrology/
If you like my articles don't forget to subscribe, share, like and comment.
For more updates press the like button for my page Tarot School Of India – https://www.facebook.com/tarotschoolofindia/
For all my Tarot and Astrology articles you can check my blog – https://tarotschoolofindia.com/blog/